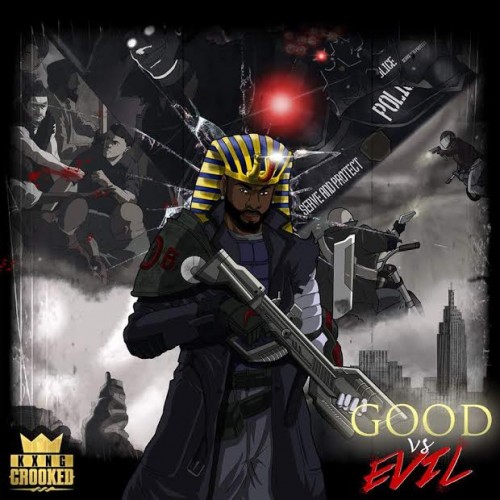 "We ain't Republican, we ain't Democrat.  We ain't none of that.  No Independent, no Tea Party; don't f*ck with that.  We ain't in the polls cuz we in the streets where them hustlers at.  F*ck politicians, we kill machines, like rat-tat-tat-tat.  We the Rebel Party."
While we are still in decompress mode from the recent holiday, focused on "Black Friday" and "Cyber Monday," KXNG Crooked is still focused on exploring the Good Vs Evil that permeates society and fighting the good fight as he displays with "Rebel Party."
Crooked doesn't give a warning shot with Good Vs Evil (which was a top 10 debut on the iTunes Hip-Hop chart) he directly tackles the boiler-plate issues as a super-hero persona from an alternate reality; racial and economic injustices, unprovoked police brutality (and the glaring lack of accountability), a deteriorating educational system, governmental agencies that willingly pump poison into its communities, systematic racism and a basic disregard for civil rights.
Good Vs Evil is an incendiary and unapologetic audible call to arms that demands to not only be heard—but processed.  The anger, truth, authenticity and clarity of Crooked's mythological character's message are both palpable and unwavering. The albums messaging is an embodiment of Public Enemy, Ice Cube, N.W.A. and Tupac updated and delivered as only KXNG Crooked can.
Listen to KXNG Crooked's "Rebel Party" below.
© 2016, Niyah Nel. All rights reserved.