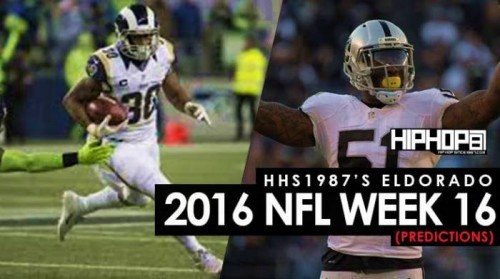 Happy Holidays! Week 16 of the 2016 NFL season continues today on a special Saturday, Christmas Eve slate of games. For Week 16, most of the game will be played today with two games taking place on Christmas Day Sunday, and the Cowboys vs. Lions matchup on Monday night.
We are in the final two weeks of the 2016 NFL season and things are heating up in the race to the NFL postseason. The Philadelphia Eagles defeated the New York Giants on Thursday night football which helped the Dallas Cowboys clinch the number one seed in the NFC. Earlier in the week, the 2017 NFL Pro Bowl players were announced with the Oakland Raiders leading the way with 7 players headed to Orlando. As you get ready to spend the day with friends, family and loved ones, checkout my 2016 Week 16 NFL predictions below.
2016 NFL Week 16 Predictions
Dolphins 27  Bills 24
Falcons 35  Panthers 24
Washington 31  Bears 20
Chargers 17  Browns 21
Vikings 20  Packers 27
Titans 24  Jaguars 20
Jets 21  Patriots 24
Colts 17  Raiders 27
49ers 20  Rams 23
Buccaneers 35  Saints 31
Cardinals 16  Seahawks 24
Bengals 17  Texans 31
Ravens 20  Steelers 24
Broncos 27  Chiefs 22
Lions 27  Cowboys 20
© 2016, Eldorado2452. All rights reserved.