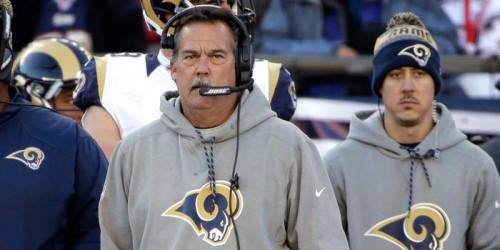 It's about time. I'll be the first to say I'd never be one to promote someone losing their job or their way of making money however I will say this was long overdue. The Los Angeles Rams have fired now former head coach Jeff Fisher.
The Rams currently stand at (4-9) after a (42-14) lost to the Atlanta Falcons during week 14 of the 2016 NFL season. After Los Angeles media and Rams fans began to call for the firing of Jeff Fisher, Rams management made it happen. Fisher has been the coach of the St.Louis/ Los Angeles Rams since 2012. In his time with the Rams, Jeff Fisher's overall record was (31-45-1). Fisher also owners the record for most overall loses by a head coach in NFL history. Checkout the Rams official statement below.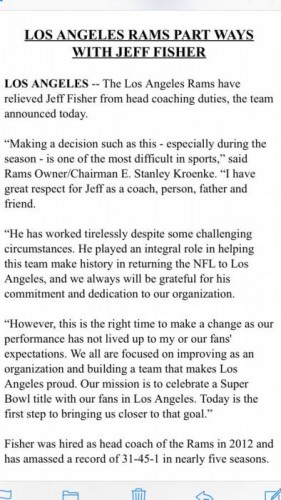 The Los Angeles Rams are back in action on Thursday night football against the NFC West division leading Seattle Seahawks. The Los Angeles Rams is one of the best in the league based on talent, location and the new stadium being built. This could be a hot job in the offseason. Stay tuned to HHS1987. Follow @eldorado2452 on Twitter and Instagram for all your NFL and sports news.
© 2016, Eldorado2452. All rights reserved.