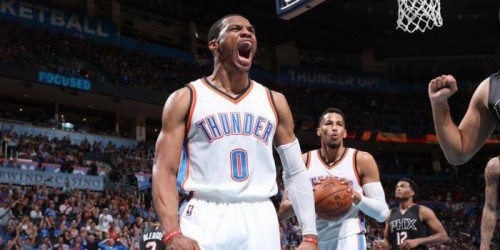 Could Kevin Durant's talent have been holding back Russell Westbrook's game? With all the stories surrounding the departure of Kevin Durant from Oklahoma City during the NBA offseason, OKC Thunder star Russell Westbrook has let it be known several times the franchise has moved on and that seems to be the case on Friday night.
Coming off of a opening night victory in Philadelphia against the 76ers, the OKC Thunder were back in action Friday night against the Phoenix Suns and Russell Westbrook accomplished something that hadn't been done since 1975. As the Oklahoma City Thunder defeated the Phoenix Suns in overtime, Westbrook notched his first triple double of the season dropping 51 points, grabbing 13 rebounds and dishing out 11 assist. This could have been Westbrook's second triple double in as many games as he was one assist short of a triple double vs. the Sixers (31 points, 12 rebounds, 9 assist).
Russell Westbrook's 51 point triple-double is the first one the NBA has seen since Kareem Abdul-Jabbar accomplished it back in the 1974-75 season. The Thunder defeated the Suns. (113-110). Checkout a few highlights from Russell Westbrook's big night below. Stay tuned to HHS1987. Follow @eldorado2452 on Twitter and Instagram for all your NBA and sports news.
© 2016, Eldorado2452. All rights reserved.