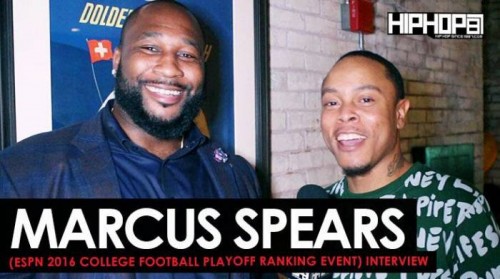 On Tuesday evening, ESPN hosted a private 2016 College Football Playoff Ranking watch event here in Atlanta and several of ESPN's media personalities and sports tastemakers in the Southern region were in attendance to watch and discuss the committees first college football rankings of the year.
During the night, we caught up with ESPN's analyst/former Dallas Cowboys' star Marcus Spears to give his take on the first edition on the 2016 College Football playoff rankings and more. Marcus Spears spoke on the top 4 teams in the college football playoff picture and how he feels the committee went about grading teams so far. Marcus Spears highlighted that the committee seems to be favoring strength of schedule and he spoke on how the rankings could change after this weekends slate of games.
Marcus Spears played in the NFL for 9 season during which he played for the Dallas Cowboys. We spoke with Marcus Spears about America's team and the success of their rookies. Dak Prescott and Zeke Elliott. Marcus Spears surprised me mentioning that maybe Tony Romo should remain the Cowboys backup stating how some change is good. Marcus broke down the strengths of the Cowboys this season and how they could be potential Super Bowl contenders.
Before concluding the interview we also spoke to Marcus Spears on his potential 2016 NFL MVP's and we spoke basketball for a moment and he love for the New Orleans Pelicans and NBA champion Lebron James.
The interview was conducted by Terrell Thomas (Eldorado). The interview was shot by Danny Digital.
Follow on Twitter/Instagram:
@ESPN
@MSpear96
@Eldorado2452
@HipHopSince1987
@DannyDigitall
© 2016, Eldorado2452. All rights reserved.