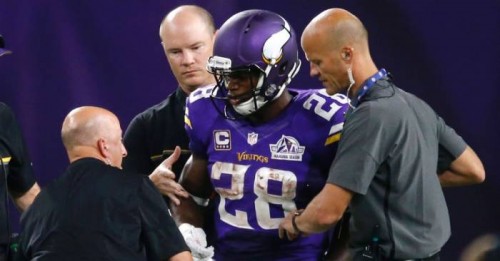 The Minnesota Vikings received bad news this morning. Vikings MVP Adrian Peterson will need surgery to repair a torn menicius in his right knee and he could miss 3-6 months.
According to NFL.com,
Adrian Peterson will undergo surgery on his injured knee. 

The Minnesota Vikings' star running back is having surgery to repair his torn meniscus on Thursday, coach Mike Zimmer confirmed. Peterson is expected to be out several months, but there's a chance he could potentially return for a December playoff run, NFL Network Insider Ian Rapoport reported, per a source informed of Peterson's situation.

o replace Peterson, the Vikings have signed running back Ronnie Hillman, Zimmer said. The Vikings coach also added that tackle Matt Kalil (hip) is being placed on injured reserve.

All Day is famously a fast healer. He returned from an ACL tear to rip up the NFL for 2,097 yards in 2012. But in 2016 at age 31, will his body bounce back quick enough to salvage even part of the season? 

With Peterson sidelined, the Vikings will roll with explosive Jerick McKinnon, Hillman and power back Matt Asiata in the backfield with quarterback Sam Bradford. After a magnificent first game, Bradford will need to stack solid outings now that he no longer has the strongest workhorse in the NFL at his disposal. 

"Obviously, it's hard to replace a running back like Adrian Peterson," Vikings quarterback Sam Bradfordsaid. "When Adrian is in the game, everyone is loading the box, trying to stop the run, which gives us a lot of one-on-one matchups on the outside. It also makes our play action pretty effective. When they see him coming downhill, everyone is stepping up to stop the run. There are some things we took advantage of with him in the game. We'll have to see how defenses will play us from here on out."
Stay tuned to HHS1987 as more news develops. Follow @eldorado2452 on Twitter and Instagram for all your NFL sports news.
© 2016, Eldorado2452. All rights reserved.