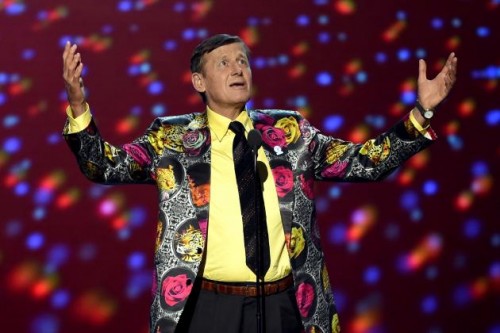 It saddens me to report that NBA on TNT sports reporter Craig Sager has passed away at the age of 65. Craig Sager has covered sports for over 40 years. When Hank Aaron broke the Home Run record, Craig Sager was there. When LeBron scree 40 point in the NBA Finals as a member of the Miami Heat, Craig Sager was there. Craig Sager made a name for himself with his one of a kind, colorful suits and accurate sideline reporting.
Craig Sager was diagnosed in 2014 with acute myeloid leukemia and he lost the nearly three year battle today. Our prayers go out to the family, Turner broadcasting and loved ones of Craig Sager. Checkout a few athletes reactions to the news of Craig Sager's passing via social media below. Stay tuned to HHS1987. Follow @eldorado2452 on Twitter and Instagram for all your NBA and sports news.
Rest In Peace to my friend and colorful sideline reporter, Craig Sager!

— Earvin Magic Johnson (@MagicJohnson) December 15, 2016
"Time is simply how you live your life." – Craig Sager. So grateful for the time you shared with all of us. RIP my friend #sagerstrong

— Kobe Bryant (@kobebryant) December 15, 2016
Sad to hear about the loss of Craig Sager a real champion. pic.twitter.com/5fQnN1m8D4

— Billy Crystal (@BillyCrystal) December 15, 2016
We will miss our dear friend Craig Sager. Such a special person. #SagerStrong

— Foot Locker (@footlocker) December 15, 2016
Craig Sager died as he lived—with courage, passion, perseverance. Fearless and hopeful, a real hero. pic.twitter.com/lPzJUPevTE

— Vice President Biden (@VP) December 15, 2016
© 2016, Eldorado2452. All rights reserved.