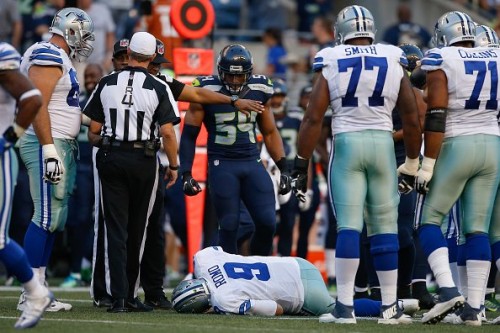 Damn. What a way to start the 2016 NFL season Cowboys nation. Dak Prescott, you've got the juice now. After suffering a injury in the first quarter of the Dallas Cowboys week 3 preseason meeting against the Seattle Seahawks, Dallas Cowboys quarterback Tony Romo will miss the first 6-10 weeks of the 2016 NFL season with a fractured vertebrae.
According to ESPN,
Dallas Cowboys quarterback Tony Romo has suffered a broken bone in his back, but coach Jason Garrett said the injury would not cost Romo the season.

Garrett announced Romo's injury on a conference call Saturday, two days after he was knocked out of a preseason game against the Seattle Seahawks after three plays in the first quarter. Romo had an MRI on Friday, and the results were learned later that night.

Garrett said the injury is not related to the surgeries Romo had in 2013. The coach would not say if it is the transverse process fractures Romo suffered in 2014 that forced him to miss a game.

Romo was hit from behind by Seahawks defensive end Cliff Avril while scrambling up field Thursday. Romo immediately reached for his lower back but was able to walk off the field under his own power. He lobbied to return to the game, but Garrett went with Prescott.

This could be the fourth straight year that Romo misses at least one game. He missed the 2013 season finale after undergoing a discectomy. He missed one game in 2014 with two transverse process fractures in his back and was out 12 games last year with a twice-broken left collarbone.
Dak Prescott your time is now young man! Cowboys Nation is it time for Tony Romo to retire? Let us know! Stay tuned to HHS1987. Follow @eldorado2452 on Twitter and Instagram for all your NFL and sports news.
© 2016, Eldorado2452. All rights reserved.