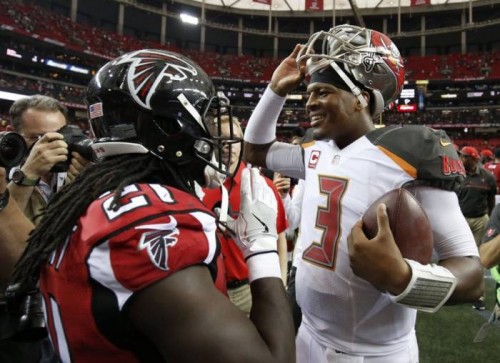 It's week 9 of the 2016 NFL season and tonight we kickoff the week in Florida with a NFC South matchup. Tonight, the (5-3) Atlanta Falcons head to Raymond James Stadium in Tampa to face the (3-4) Tampa Bay Buccaneers.
I expect this to be a high scoring matchup tonight, something we haven't seen much of so far on Thursday night football games. The Falcons and Buccaneers met in week 1 of the season with the Bucs handing the Falcons their first lost of the season. Not only that, in his three match ups so far against Atlanta, Buccaneers quarterback Jameis Winston is (3-0). The Falcons are well aware of that and they are looking to chance things.
Tonight look for both quarterbacks (Winston and Ryan) to pass for over 300 yards. I expect Atlanta Falcons QB Matt Ryan to continue is MVP caliber season passing for over 320 yards and 3 touchdowns. Matt Ryan will lean on wide receiver Mohamed Sanu a lot tonight and he will account for two receiving toundowns. For the Bucs, I could easily see Jameis having a career night. Look for Winston and Bucs wide receiver Mike Evans to connect on two touchdown passes tonight. The Bucs have injuries all over their offense so Jamies Winston will need to have a good night if the Bucs want to come away with the win.
Both teams need this game tonight as we move pass the half way point of the season. The Falcons can take a commanding lead in the NFC South with a win, but a lose puts the Bucs just a half of a game way from first place. Tonight despite me believing the Falcons are the better team, I think the home team will get the win.
Falcons 31  Buccaneers 35
© 2016, Eldorado2452. All rights reserved.