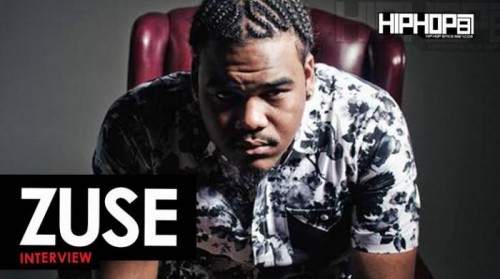 Recently, I sat down with Jamaican born rap artist Zuse to speak on his new project 'Bullet 2: Banana Clips', Hip-Hop's new sound, working with T.I. and more. Zuse has been in the game for some time and hie resume speaks for itself. Touring with Tech N9ne, working with the likes of T.I., Kevin Gates an many more, Zuse sat down with HHS1987's to give him some insight on his new project, future moves and more.
1.) You dropped your latest project Bullet 2: Banana Clip about a month ago. W

hat is your favorite track and why?
 I wouldn't say I have a favorite track in particular as each song gives me a different feelings but the song that does stand out to me the most as I'm fan of my own self would be "No Love" as it's speaking  on the social injustices of minorities in our communities. It's a record that just touches my soul especially with the consistent murders of our black brothers and sisters in our communities by the police.
2.) With artists like Drake and Beyonce releasing 
dancehall and reggae-inspired singles, how do you feel your music will measure up, being you are a true Jamaican artist?
Drake and Beyoncé are the face of music and I'm very appreciative of them as well as others spreading light on the Caribbean especially Jamaica as we are the Mecca of Reggae and Dancehall music but at the end of the day being a Jamaican and trying to infuse Dancehall & Reggae with Rap I don't feel as if the true essence of what I'm set out to do has come to the forefront correctly as I believe that other artists are doing it just for the moment when I'm trying to change the game forever with it, so there's not really a measure up to me or even a slight comparison. The only people who I believe have been doing it well and consistent to me is Rihanna & Nicki Minaj, because they've been doing it for years, then again Nicki Minaj & Rihanna are Caribbean women.
3.) You work with a variety of producers. What is it about their sound that resonates with your music?
3.) Different producers give me different vibes which allows me to create different waves for my fans and day one supporters. It just depends on the vibe I get when I'm in the studio and how the instrumental touches me. I just go with how I feel. Shout out all the producers who have helped cultivate my sound thus far, it's truly appreciated and I'll continue to try and shift the culture for the better.
4.) Being an up and coming artist, you've had the opportunity to learn from and work with one of the best in the game; T.I. Tell us some of the valuable pointers he's given you and what its like to work with him. 
4.) The most valuable pointer Tip has given me since I've known him is to work hard and to be consistent. He works as if he hasn't sold millions of records and that within itself inspires me in ways people just can't imagine. Shout out Tip, Bankroll Mafia and the entire Hustle Gang.
5.) Aside from T.I., you've collaborated with some of the top rap artists like Young Thug, Post Malone and Kevin Gates. Can we expect any collabs with an Afro-beat or dancehall artists in the near future?
5.) What is an Afro-Beat? Lol. Are you speaking about producers being inspired by traditional old school reggae rocksteady sounds that stems from the Caribbean that people now call Afro-Beat? It's actually funny to me hearing that. As I said earlier it's whatever that touches me I go with, I'm not set out to make a certain type of music. I'm just trying to be great and give people great Quality music. I have a lot of music in the stash with a lot of great rappers and dancehall acts that haven't been released. Everything happens in due time as my mother would say. Just wait on it to unfold.
6.) With the internet breeding new rap artists daily, how does your sound set you apart from the crowd?
6.) What sets me apart from the crowd is that I don't sound like anybody else but myself. There's not one rapper or artist you can compare me to. I'm in my own lane and I invite people in it from time to time. I'm just set out to make good music and be myself at the end of the day.
7.) Hip-hop is taking a turn for a more international sound, something you're very family with, do you have plans on working with any overseas and/or Afro-Beat artist if you haven't already?
7.) I have a lot of music in store, just look out for some of my best work to come out in the future, the near future if I may add. A lot of music is in the vault right now and I'm slowly but surely planning on giving my fans and supporters what they want. It's all about the people. I do this for the people and that will never change.
8.) What message do you want to be taken from your music?
8.) My message is just to show everybody that I'm the best at this thing called music. Song for song I guarantee nobody can touch me whether underground for ten years or mainstream. My music is literally a feeling. No amount of words can sum it up. Just jump on the wave and don't get lost in the ocean. Lol
9.) Where can we tell our audience to find you?
9.) You can find me on Twitter, Soundcloud and Instagram @iAmZuse and my snapchat is ZuseZooly. Luv!
© 2016, Eldorado2452. All rights reserved.