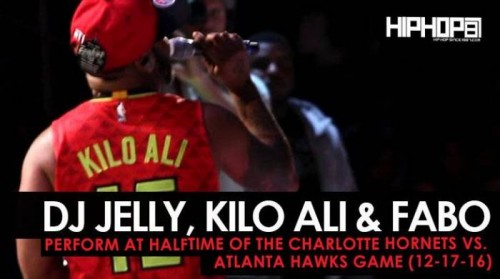 On Saturday December 17th, the Atlanta Hawks hosted "Ryan Cameron" night at Philips Arena in honor of the popular radio host/ Hawks play by play announcer. During halftime of the Atlanta Hawks matchup against the Charlotte Hornets, Ryan Cameron took Atlanta music loves back to the future with a live performance from Atlanta rap legends DJ Jelly, Kilo Ali and Fabo.
Kilo Ali hit half court to perform his hits ""Donkey Kong" (Bankhead Bounce) and "Baby, Baby". D4L's Fabo hit mid court with a tribute to the late Shawty Lo performing "Dey Know" followed by "Betcha Can't Do It Like Me", "Laffy Taffy" and "Geek'd". HHS1987's Terrell Thomas (Eldorado) and Danny Digitall were courtside to capture the entire experience as DJ Jelly, Kilo Ali and Fabo took fans back to the 90's and early 2000's with their classic hits. The performance was shot by Danny Digitall. Follow @eldorado2452 on Twitter and Instagram for all your Atlanta Hawks, NBA and sports news.
Follow on Twitter/Instagram:
@ATLHawks
@therealkilo
@FaboGeek/ @iamfabo
@therealdjjelly
@Eldorado2452
@HipHopSince1987
@DannyDigitall
© 2016, Eldorado2452. All rights reserved.