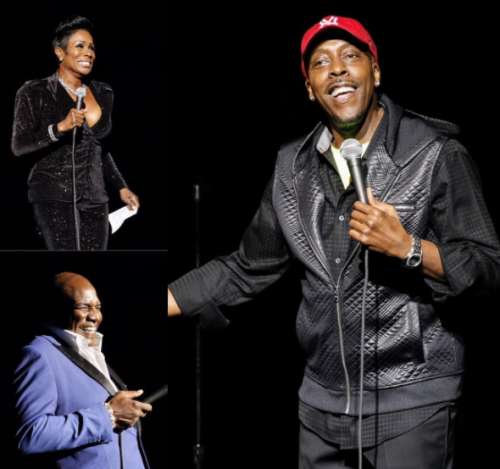 It was all laughs last night in The Theater at Madison Square Garden in New York City. WBLS' "April Fools Day Comedy Show" has been a staple event for the Emmis New York brand for over ten years now. And every year they bring the heat when it comes to comedy. And what better day to host the even than April Fools Day. This year, one of the Queens of Comedy, Sommore, hosted the evening. The line-up of comedians included Don "D.C." Curry, Michael Blackson, Arnez J, Tommy Davidson and Arsenio Hall. Each comedian brought their own style of comedy and humor to the stage, entertaining the audience for three hours straight.
Highlights of the evening included Arsenio Hall's set which shed light on Trump's presidency, New York City and of course, Coming to America. His set was briefly interrupted by one sole heckler in the crowd. The rest of us all instigated, as we yelled to Arsenio, "Get Her!" And that he did. Many of us turned to each other and just shook our heads, "Why would you do that to yourself? That's Arsenio!"
As the night continued on, each set brought comedic relief to a lot of problems we are facing in our society. It's always good to laugh at ourselves, right? Can't be so serious. The closer for the night was none other than Mr. Tommy Davidson. He revamped a few familiar jokes that had us hysterical, and also dished out some new material. His Don Francisco impersonation never gets old!
Overall, WBLS continues to live up to the April Fools Day hype. It's definitely worth your attendance next year!
© 2017, MariaMyraine. All rights reserved.