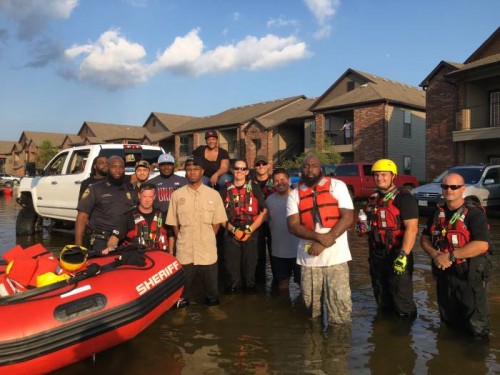 Houston native, Chamillionaire, is doing his part to help get his home state back on its feet in the wake of Hurrican Harvey's historical damage. After several days of relief work – driving water and supplies to hardest hit sreas – Cham felt the call to do more. This quickly became inspiration behind his Robin's Heart Foundation – a 501c3 charity, for monetary donations.
Thus far, over $26K has been donated with a goal of $100K – $25K of which came from Chamillionaire himself.
"Just like so many other people out there, I don't want to sit on the sidelines, I want to do the most that I can to help." He says on the front page of his website. "I will be investing a lot of my own personal time and money to help, but there are so many people impacted by the flooding that I can't help feeling like I need to try my best to do more." He added. "I'm sure there are plenty of other campaigns that will do great things for the people who have been impacted by Hurricane Harvey, but I want to focus on a lot of the families and areas that I feel have been extremely overlooked."
© 2017, MariaMyraine. All rights reserved.