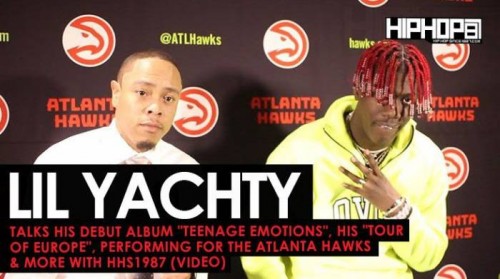 On Friday January 27th, QC The Label's own Lil Yachty hit center court at Philips Arena during halftime of the Atlanta Hawks vs. Washington Wizards game. Before Lil Yachty's performance at the Atlanta Hawks game, we sat down with Lil Yachty to talk his upcoming debut album and more.
Lil Yachty spoke to us on his recent success and his upcoming album 'Teenage Emotions". Following the success of his two mixtapes 'Lil Boat' and 'Summer Songs 2', Lil Yachty spoke on his project 'Teenage Emotions' and how he has been working on it for months. Lil Yachty expressed that 'Teenage Emotions' will have a different vibe and he spoke on the production and possible features that could appear on the project.
As he prepares to take his talents overseas, Lil Yachty spoke with us on his upcoming "Tour Of Europe" which kicks off at the end of February. Yachty elaborated that he was looking forward to going to a learning more on the culture in Europe, and wants to see what the country as to offer. Before concluding our interview, Lil Yachty spoke on his joy performing in front of his hometown fans at Philips Arena, his record "Minnesota" appearing in a recent Sprite commercial and more.
The interview was conducted by Terrell Thomas (Eldorado). The interview was shot by Danny Digital. Stay tuned to HHS1987 for all your new music and exclusives. Follow @eldorado2452 on Twitter and Instagram for all your sports, music and entertainment news.
Follow On Twitter/Instagram:
@Lilyachty
@ATLHawks
@Eldorado2452
@DannyDigitall
© 2017, Eldorado2452. All rights reserved.