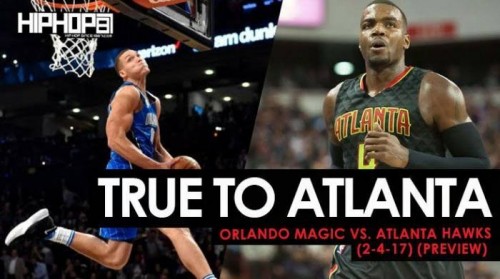 Tonight, the (29-21) Atlanta Hawks return home to Philips Arena to host Aaron Gordon and the (20-32) Orlando Magic. The Hawks were recently on a two game road trip were they witnessed Tim Hardaway Jr. explode for a 23 point 4th quarter in Houston on Thursday night. After trailing the Houston Rockets by 20 points in the fourth quarter, Hardaway Jr.'s 4th quarter performance helped the Hawks edge the Rockets (116-93).
The Orlando Magic have struggled early this season but they defeated the Hawks at Philips Arena during their last meeting. When the Magic came town on December 13th, they defeated the Hawks (131-120) thanks to a big game from Elfrid Payton. The Hawks returned the favor defeating the Magic (111-92) in Orlando on January 4th.
With much of the sports world focused on the city of Atlanta thanks to the Atlanta Falcons playing in Super Bowl 51 on Sunday afternoon, there is a special feeling in the air in the city and that may carry over to the play of the Hawks tonight. Tonight's matchup tips off a three game home stand for the Hawks who welcome in the Utah Jazz and Denver Nuggets after tonight's game vs. Orlando.
As NBA All-Star weekend 2017 approaches, both the Orlando Magic and Atlanta Hawks will be represented in the events. Hawks forward Paul Millsap will be a member of the Eastern Conference all-stars for the 4th straight season and Magic high flyer Aaron Gordon is participating in the 2017 Slam Dunk event.
Tonight's Atlanta Hawks road matchup against the Orlando Magic tips off tonight at 7:00pm. Stay tuned to HHS1987 for more NBA news. Follow @eldorado2452 on Twitter and Instagram for all your Atlanta Hawks, NBA and sports news.
Follow Us on Twitter and Instagram:
@ATLHawks
@OrlandoMagic
@Eldorado2452
@HipHopSince1987
© 2017, Eldorado2452. All rights reserved.