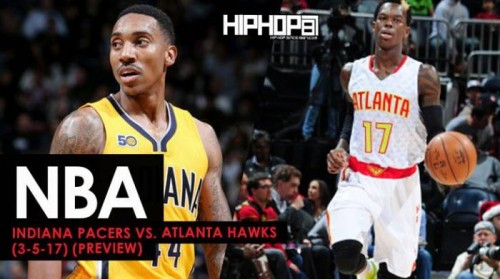 The Atlanta Hawks will continue their current 6 game home stretch earlier then usual this afternoon. Today at 1pm EST, the (34-27) Atlanta Hawks will welcome former Hawks all-star Jeff Teague and the (31-30) Indiana Pacers.
The Hawks are currently (1-1) heading into the third game of the six game home stand after defeating the Dallas Mavericks on Wednesday night but losing to the Cleveland Cavaliers in a thriller on Friday. With Indiana coming to town, the matchup between Thabo Sefolosha and Paul George could be key. Paul George was the talk of trade rumors close to the NBA trade deadline a few weeks ago however he is averaging nearly 22 points a game on the year. Former Hawk Jeff Teague has played well in his first year as a member of the Pacers. Teague is averaging 15 points and 8 assist for his new team. Teague's matchups with Dennis Schroder and possibly newly acquired guard Jose Calderon could be very interesting.
The Hawks come into this afternoon's game looking to bounce back from a tough loss to Cleveland on Friday night. The Hawks had no reason to hold their heads after's Friday lose though, despite trailing by 25 points, they fought back and almost came away with a victory. If they keep the same energy they showed in the fourth quarter of Friday's game to start today's game, Indiana will be in trouble. Paul Millsap have been key to the Hawks success this year averaging 18 points a night. A good game from him and Tim Hardaway Jr. who seems to have found his place in this Hawks line up and the Hawks could be heading into tomorrow night's matchup against the Warriors at a record of (2-1) on this current home game.
The Indiana Pacers vs. Atlanta Hawks matchup will tip at 1pm live from Philips Arena. If your in the Atlanta area you can watch the game on Fox Sports South or listen to the game on the radio at 92.9 the game.Stay tuned to HHS1987 for more NBA news. Follow @eldorado2452 on Twitter and Instagram for all your Atlanta Hawks, NBA and sports news.
Follow On Twitter/Instagram:
@ATLHawks
@Pacers
@Eldorado2452
@HipHopSince1987
© 2017, Eldorado2452. All rights reserved.