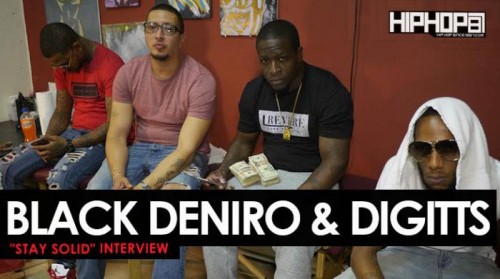 Uptown Philly has always had a great history when it comes to rappers. This week one of Uptown's legendary rappers Black Deniro, and up and coming Uptown rapper Digitts, sat down with HipHopSince1987's own Rick Dange for an exclusive interview about their new project "Stay Solid". The project is scheduled to drop this week! Black Deniro & Digitts have been friends most of their lives but felt like it was finally time for them to link up and drop a joint project. In this exclusive interview, the 2 talk about what motivated them to make a joint project and why they feel the project is important. Individually, Black Deniro & Digitts also break down what they have coming up after this project as solo artists. Digitts speaks about his upcoming solo project and Black Deniro speaks about his up coming movie "Backfire".
Checkout this exclusive interview NOW and be on the lookout for new visuals coming soon off the "Stay Solid" project!
This interview was conducted, shot, and edited by Rick Dange.
Follow Us on Twitter/Instagram at:
@BlackDeniro_215
@SilverbackBoyD/@Itz_DiggitsWorld_215
@HipHopSince1987
@RickDange
© 2017, RickDange. All rights reserved.