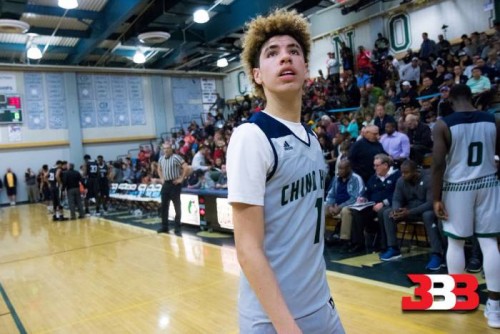 Chino Hills high school sophomore LaMelo Ball is one of the top high school players in America and on Tuesday night, he displayed just why. LaMelo Ball is the younger brother of UCLA star guard Lonzo Ball and LaMelo has already committed to UCLA when his days at Chino Hills are over.
On Tuesday night as LaMelo's Chino Hills Huskies faced Los Osos, LaMelo Ball scored 92 points on (37-61) shooting along with 7 assist in a (147-123) victory. The highlight of LaMelo Ball scoring 92 in my opinion is the 41 points he scored in the fourth quarter in just 8 minutes. Yes, their high school quarters are only 8 minutes long so he dropped 92 points in 32 minutes.
92 points #love4lexi 🙏🏼

— SwaggyMelo (@MELOD1P) February 8, 2017
After the game, LaMelo Ball dedicated his performance to Lexi Anderson, a young lady at his Chino Hills high school who need a heart transplant. Checkout some highlights from LaMelo Ball's 92 point performance below. Stay tuned to HHS1987. Follow @eldorado2452 on Twitter and Instagram for all your sports news.
Well I mean that's one way to bounce back after a loss… I see you lil bro 9️⃣2️⃣

— Lonzo Ball (@ZO2_) February 8, 2017
© 2017, Eldorado2452. All rights reserved.