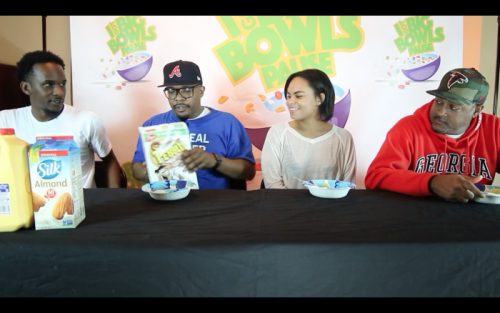 Food lovers around the world can always appreciate a good meal for breakfast lunch or dinner! Crunch Time Media's own E1DON has created a new weekly cereal review series entitled "I Got Big Bowls……Pause!".
On Episode 32 of "I Got Big Bowls…..Pause!", host E1DON, Danny Digital and Auria discuss Post and Keebler Cinnamon Pebbles vs. Chocolate Chip Cookies Cereal. The trio break down if the cereals meet their standards and if they are worth adding to your shopping cart before reaching the checkout line. This week they were also joined by hip-hop artist/ No Genre's own Playboy Tre.
Checkout episode 32 below and stay tuned weekly to HHS1987.com for new episodes of "I Got Big Bowls……Pause!". Checkout previous episodes here. The series "I Got Big Bowls…..Pause!" is shot by Danny Digitall. Stay tuned to HHS1987. Follow @eldorado2452 on Twitter and Instagram for all your music and entertainment news.
© 2017, Eldorado2452. All rights reserved.