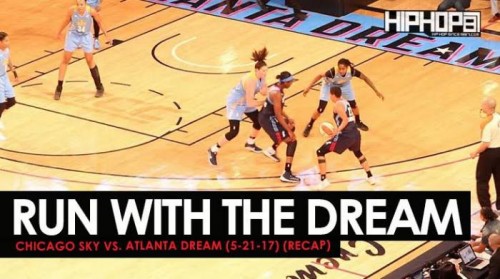 On Sunday May 21st, the Atlanta Dream suffered their first loss of the season losing to the Chicago Sky (75-71). Elizabeth Williams was effective for the Dream, finishing with game-high 13 rebounds (seven offensive rebounds). Tiffany Hayes and Layshia Clarendon both finished the game with 17 points. Clarendon also added 9 assist. The Dream started the game strong but a 24 point third quarter for the Sky changed the game and the outcome of it.
For the Chicago Sky, appie Pondexter finished with double-double (20 pts and 10 assists). Stefanie Dolson tied career-high with 23 points on 76.9 FG% (10-13) and the Sky controlling the paint outscoring the Dream (36-24) in the paint. The Sky were (0-2) on the season coming into the game Sunday however Sky rookie head coach Amber Stocks picked up her first win.
Following the game, Coach Cooper had this to say on the Dream vs. Sky matchup.
On what team learned about Chicago tonight:
"You have to play a different form every minute of the game, play hard. We did some good things and some of the same things we did to them last time, they made adjustments. I thought we did make some adjustments at the end. But the one thing they did at the end is they played harder. I'm proud of our team. We played extremely hard; we could have let that one go by 20 but we stayed in it and had an opportunity to win."
On what team will learn from this loss going forward:
"Every game we get a little bit better and we understand our weaknesses now. The mental fatigue is something we're going to have to fight through. But that's where your bench comes in. I stuck with our starters tonight and wanted them to play through tough times and I thought they did a great job"
The Atlanta Dream return to action on Saturday May 27th as the defending WNBA champion Los Angeles Sparks come to town. The Atlanta Dream vs. Chicago Sky matchup was covered by Terrell Thomas. The Atlanta Dream vs.Chicago Sky recap was shot and edited by Danny Digital.
Follow On Twitter and Instagram:
@AtlantaDream
@WNBAChicagoSky
@WNBA
@Eldorado2452
@DannyDigitall
© 2017, Eldorado2452. All rights reserved.