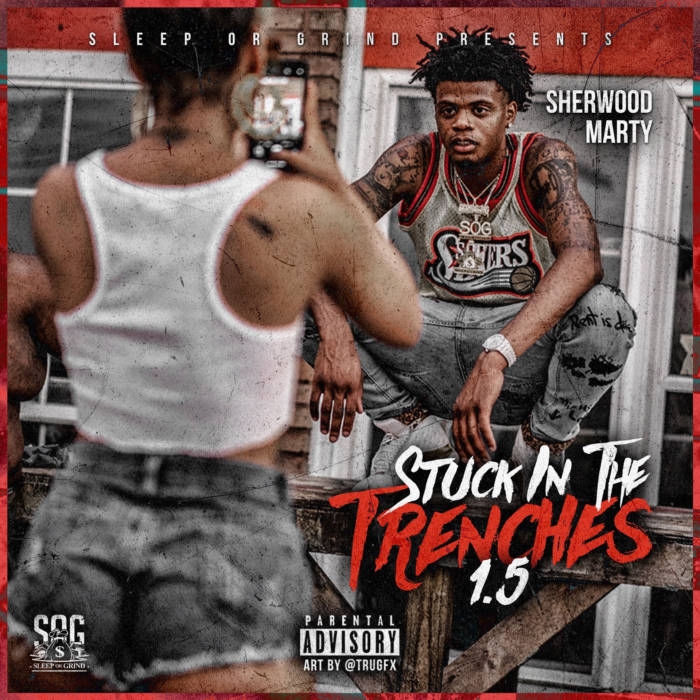 Baton Rouge's Sherwood Marty released his latest mixtape, Stuck In The Trenches 1.5 via My Mixtapes.
The project consists of 9 tracks along with a two-part documentary that reflects on and reveals Sherwood's roots directly through his eyes. In Part One, Marty talks about his personal feelings on his infamous hometown, saying "Everywhere I go around the country, Baton Rouge in Louisiana, they just look at us like we're the worst people ever. I don't feel what they feel; yeah there's a lot of hate here, but they got hate everywhere, you feel me, but there's a lot of love here too though."
Stuck In The Trenches 1.5
 includes features from artists such as Trapboy
Freddy, Yung Mal, Lil Quill, 
and 
Sherwood Flame
. He reveals his struggles to break out from his tough past and sacrifices for success in stand out bangers like, "
We Outchea
" and "
Way Up
," which video premiered on 
Noisey 
last week. Marty highlights aspects of his complicated personal life, but also takes a lighter note with love songs like "
Chanel
."
Sherwood Marty first bursted onto the scene in 2016 with his breakthrough mixtape, 
Stuck In The Trenches: Self Made Vol. 1
, which featured an appearance from the late, 
Da Real Gee Money
. Sherwood's uncompromising rawness garnered him over 2 million views for his "
Sherwood Baby
" music video, 1 million+ streams for his single "
Ride
," and a popular remix to fellow Baton Rouge rapper, 
YoungBoy Never Broke Again
's hit single "
Untouchable
." Just last month, Sherwood teamed up with breakout Bay Area/Alabama lyricist, 
OMB Peezy 
for their joint 
Young and Reckless
 mixtape, that received praise from
 Pitchfork, Pigeons and Planes, Hypebeast, XXL, Hot New Hip-Hop
, and other outlets.
Stuck In The Trenches 1.5 gives fans a taste of what's yet to come from Sherwood Marty.
Stuck in the Trenches 1.5 Tracklisting
1. Ticket Ft. Trapboy Freddy (Prod. DrumGod)
2. Beat Da Block Ft. Yung Mal, Lil Quill, Sherwood Flame (Prod. Austin on the Track)
3. Feelings (Prod. Cashmoney AP)
4. Way Up (Prod. Mouse of the Track)
5. Make It Out (Prod. Two4 & Ill Will)
6. Chanel (Prod. DJ Swift)
7. Loaded Ft. Sherwood Flame (Prod. Nard & B)
8. What You Need (Prod. RonRon Do That Shit)
9. We Outchea (Prod. Mouse On The Track)
© 2018, Seth Barmash. All rights reserved.