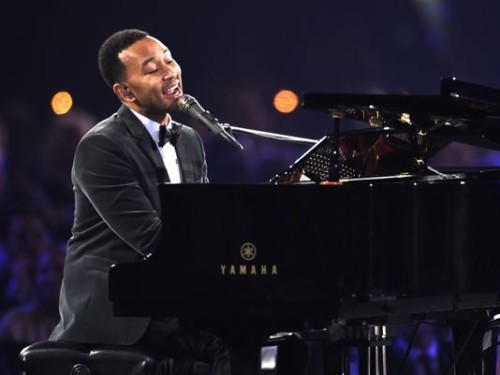 Dick Clark productions and NBC announced today that "2018 Billboard Music Awards" host, Kelly Clarkson, and two-time Billboard Music Award winner, John Legend, will both perform on the three-hour live telecast, airing Sunday, May 20th at 8 p.m. ET / 5 p.m. PT on NBC.
NBC's "The Voice" coach was announced as the "Billboard Music Awards'" host last week and will emcee the award show for the first time. Legend is coming off his starring role in NBC's commercially and critically acclaimed "Jesus Christ Superstar Live in Concert."
The artists will join previously announced performers BTS, Camila Cabello, Ariana Grande, Dua Lipa and Shawn Mendes on a night filled with music's biggest names. The show will feature performances from this year's hottest musical acts, unexpected collaborations and buzzworthy moments that celebrate 60 years of the Billboard Hot 100.
#JOHN_BBMAs 05.20 ON NBC

_User: @johnlegend /CONFIRMED pic.twitter.com/f5A0tIh5ek

— Billboard Music Awards (@BBMAs) May 3, 2018
Two-time Billboard Music Award winner John Legend has been adding to his collection of chart accolades for over a decade, dating to his Billboard chart debut in May 2004 on Slum Village's "Selfish," with Kanye West. Since then, the R&B singer has launched 15 songs on the Billboard Hot 100, including his smash hit "All of Me" in 2014, which spent three weeks atop the chart and finished the year at No. 3 on Billboard's year-end Hot 100 ranking. Legend has also scored six Top 10 albums on the Billboard 200, which has helped him earn over 8 million equivalent album units in the U.S., according to Nielsen Music.
Critically acclaimed, multi-award winning, platinum-selling singer-songwriter John Legend has garnered ten Grammy Awards, an Academy Award, a Golden Globe, and a Tony among others. In 2016, John released his fifth studio album "DARKNESS AND LIGHT," to rave reviews and toured to sold out audiences across the globe.  John also serves as one of the principles for Get Lifted Film Co., a film and television production company based in Los Angeles. Get Lifted Film Co. serves as Executive Producers on NBC's live production of Jesus Christ Superstar, the HBO documentary "Southern Rites," 2018 Tribeca Audience Award Winner documentary United Skates, WGN America's series "Underground," and films such as "Southside With You" and "La La Land." In 2015, John initiated the #FREEAMERICA campaign; a campaign designed to change the national conversation of our country's misguided criminal justice policies and to end mass incarceration. In April 2018, John released a new track called "A Good Night" Featuring Blood Pop, and also starred as Jesus Christ in NBC's Jesus Christ Superstar Live!
Nominations for the "2018 Billboard Music Awards" were announced earlier this month on NBC's "Today" and on a livestream from Billboard's New York office. Kendrick Lamar, Bruno Mars and Ed Sheeran tie for the most nominations this year with 15 each.
© 2018, Eldorado2452. All rights reserved.