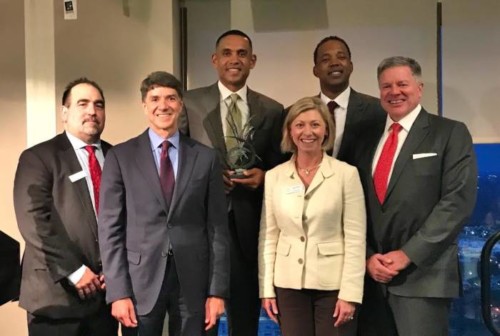 Hawks Vice Chair Grant Hill accepted award on club's behalf at The Commerce Club in Downtown Atlanta!
Big ups to the Atlanta Hawks for always staying True To Atlanta!
On Thursday, May 3, Georgia Justice Project (GJP) presented the 2018 Grass Roots Justice Award to the Atlanta Hawks Basketball Club to honor the team's commitment to improving the local community. Atlanta Hawks Vice Chair and 2018 Naismith Memorial Basketball Hall of Fame class member Grant Hill accepted the award on behalf of the organization.
"It is an honor to receive this award on behalf of our ownership group and Hawks employees," said Hill. "We truly believe that we are stewards of a public asset, and we are fully committed to using our franchise as a vehicle to assist the community."
GJP highlighted the Hawks for "building bridges through basketball for at-risk youth to engage in healthy sports and character-building programs." The Atlanta Hawks Foundation has provided state-of-the-art basketball courts at 13 Metropolitan Atlanta locations, including the Atlanta Police Foundation's At-Promise Center located in the historic English Avenue neighborhood.
Doug Ammar, Executive Director of GJP, shared the common vision of both GJP and the Atlanta Hawks. "We both believe in the power of service and sacrifice, to not only change the lives of a few, but also to bear witness to a larger reality. We all are better, and our community thrives, when we combine opportunity with compassion, when we help our neighbors to live into their potential, when we bring hope and opportunity, and when we remove barriers to belonging and inclusion."
To learn more about the Hawks' work in the community, please visit www.hawks.com/community.
© 2018, Eldorado2452. All rights reserved.