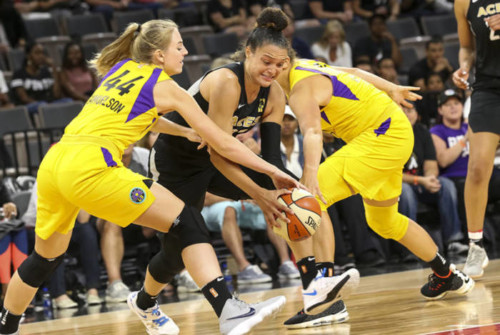 The Los Angeles Sparks are back on the winning side of things after a (87-91) win against the Las Vegas Sparks on Sunday afternoon.
The Sparks started the game hot and never turned back. The started the game shooting (25-34) from the field (73.5%) and controlled the pace of the game. Jantel Lavender was key for the Sparks as she scored 17 points.
After missing a few games due to a minor back injury, forward Nneka Ogwumike returned to action in a big way. Ogwumike finished the game with 12 points and 7 rebounds. Candace Parker and Alana Beard both added 12 points for the Sparks. Sparks point guard Chelsea Gray added 13 points.
For the Las Vegas Aces, it was a much different outcome then the victory against the Sparks on Friday in Vegas. Veteran guard Tamera Young led the Aces in scoring finishing the game with 16 points and 8 assist. Aces rookie Aja Wilson played 13 minutes on Sunday and finished the game with just 10 points. Aces scoring machine Kayla McBride finished with 13 pts.
The (12-5) Los Angeles Sparks will be back in action on Tuesday night against the (9-7) Connecticut Sun at Staples Center. Follow @eldorado2452 on Twitter and Instagram for all your Los Angeles Sparks, WNBA and sports news.
© 2018, Eldorado2452. All rights reserved.