Well after a great 2011 NFL football season, we are finally at the final four. The New England Patriots are at home today against the Baltimore Ravens (3:00 pm CBS) and the N.Y. Giants are in San Francisco to face the 49ers. Hopefully we will get some good ole, smashmouth, penalty free football. I will give a quick breakdown of each game and my prediction on who will play in the Super Bowl XLVI.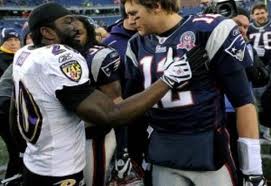 AFC Championship Game: New England Patriots(-7) vs. Baltimore Ravens
I just read a tweet from ESPN's Adam Schefter saying that the Patriots haven't beaten a team with a winning record all season. At this point, what does it really mean? The Ravens have beaten six teams with winning records this year, so in some peoples eyes they may be more battle tested. Well in the playoffs it's about who has the hot hand at the time and the Pats offense is hot, led by future first ballot hall of fame QB Tom Brady. He is playing great football as usual, has an array of weapons to throw the ball to, and his offensive line has kept him clean. The duo at tight end of Rob Gronkowski and Aaron Hernandez are as good as I've ever seen in my lifetime watching football.
The Ravens will most likely play man to man across the board and just rush four, so it's going to be key for the O-line of the Patriots to protect Brady. We've seen this year and in the past, if you get to Brady early and often in the game, knock him around, he isn't the same quarterback. The Ravens Terrell Suggs will be on Brady's heels all game. A player of his caliber could dominate this game if he isn't contained. Also, look for the Patriots to try to get Ray Lewis one on one out in open space and take advantage of his slowing down.
The talk all week in Baltimore has been safety Ed Reed's comments about quarterback Joe Flacco's play against the Texans last weekend. Joe Flacco has a 5-3 playoff record in his first four years in the NFL, but his play has been mediocre to be nice. In those eight playoff games, his passing numbers are: 112-211 53%, 1226 yards, and a QB rating of 66.2. The Patriot defense is nothing to be scared of, but in order for the Ravens to win this game, Flacco will have to be more than pedestrian in today. Ray Rice is clearly the team's number one option offensively, but they will need more from the passing game to win.
The Patriots defense is ranked 31st in yards given up, and has been a problem all season from that standpoint. But they are ranked 15th in the league points wise, giving up 21.4 per contest, lead the AFC with 34 total takeaways and leads the AFC in giveaway/takeaway differential with a +17 mark. You best believe Bill Belichick will come up with a scheme to confuse Flacco and force him into some mistakes.
My Prediction: Patriots 27 Ravens 20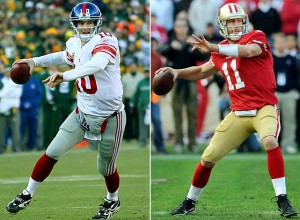 NFC Championship Game: San Francisco 49ers(-1.5) vs. N.Y. Giants
Coming into this season, I thought the 49ers would win 6 or 7 games at the most. But first year head coach Jim Harbaugh has taken basically the same roster that Mike Singletary couldn't win with and has them one game away from a Super Bowl birth. The 49ers play a hard-nosed brand of football, with a great defense and running game. Quarterback Alex Smith has finally come into his own under Jim Harbaugh and has a historic performance last week against the New Orleans Saints.
The 49ers for teams to turn the ball over and don't turn it over themselves, leading the NFL with a +28 in the giveaway/takeaway department. It's going to be a rainy, sloppy field today in San Francisco and whomever wins the turnover battle will be making the trip to Indy for the Super Bowl. Expect a heavy dose of running backs Frank Gore and Kendall Hunter and some play action passes downfield to tight end Vernon Davis, who is a matchup nightmare for linebackers and safeties.
Defensively the Giants have been playing some damn good football over the last month and they have gotten back some players who were injured. Linebacker Micheal Boley had 9 tackles and 2 sacks last week against the Packers, as the numbers show he was all over the field. The Giants pass rush is as dominant as when they made their Super Bowl run four years ago. They will have to strap it up and stop the 49ers run and force them into long down and distance situations, so their pass rush can be effective.
Offensively the Giants are led by the arm of Eli Manning, who's playing the best football of his career. The Giants running game has resurfaced, giving the offense the balanced it's lacked all season and they will need it against the 49ers vicious front 7. Even if the running game isn't real effective, the Giants still need to run the ball to keep the 49ers honest defensively. The trio of Nicks, Cruz, and Manningham is one of the best in all of football and will test the defensive backfield of the 49ers if Manning gets time to throw down the field.
On defense, the 49ers are the most physical group of players I've seen all season. All eleven players are sure tacklers and hit with thunder, forcing fumbles, interceptions, and knocking players out of games. They stop the run first, force teams into passing downs and get after the QB in a vicious manner. They will try to get hits on Manning and force him into mistakes. If they can force the Giants to turn it over they will win this game.
My Prediction: Giants 20 49ers 19
© 2012, @BWyche. All rights reserved.