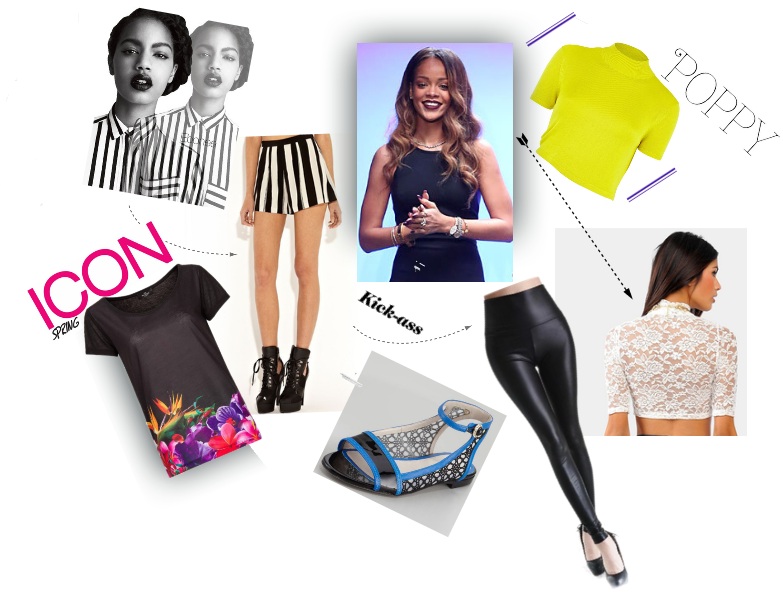 Spring 2013 fashion trends!!! Spring is just around the corner and we all can't help but wonder what Spring fashion has in store! If you've been paying attention to the runways, magazines, etc. then you'll know that the hottest trends for this Spring include leather, lace, bright colors, floral, stripes, & crop tops!
Wearing stripes can be very flattering if worn correctly! You can buy striped dress, skirts, & tops! However don't over due the stripe look! Could end up having the fashion police looking for you!
Lace can leave you feeling sexy & very feminine! If you're a girly girl or even if you're not, just by adding a touch of lace to your outfit can keep you in season & trendy!
Bright colors! Love being bold & experimenting with bright colors? You'll be happy to know bright colors are what's hot for Spring! Throw on bright jeans or a bright top to give that eye-popping look without looking like a highlighter!
Leather is still in for Spring 2013! Leather can give off a rock chic look or even a very girly look depending on how its worn. Adding leather pants, shorts, tops, & jackets to you wardrobe is definitely a good idea!
Been working on your tummy to get it nice and flat for Spring/Summer? Then crop tops are must have for Spring!! You can wear crop tops with high-waisted skirts which are also popular for Spring, pants, shorts! Crop tops can add a edgy yet chic look to your outfit!
Be sure to have fun with your wardrobe this Spring & have fun with all the different looks and trends! If you love to wear what celebs are wearing, Rihanna's collection collab with River Island has many trendy pieces for Spring!!!
© 2013, @BWyche. All rights reserved.