Vlad TV reports Black Hippy members Ab-Soul, Schoolboy Q, Jay Rock, and Kendrick Lamar all covered the October 29th issue of XXL Magazine.  The title reads, "XXL: with Kendrick Lamar & Black Hippy," which didn't sit too well with Ab-Soul.  While Kendrick Lamar is certainly an official member of TDE, they all came up together during their journey to gaining fame as a unit, not as a separate group that is just closely associated with Kendrick.
The title, which only named K-Dot, as if to say the rest of TDE are his side-kicks, aggravated Ab-Soul, and rightfully so.  He took to Twitter to let it be known that he is willing to remove himself from the rap group if the print ad is not adjusted accordingly.  He also took a moment out to let his fans know that he has recently finished a new project with TDE in-house engineer Ali.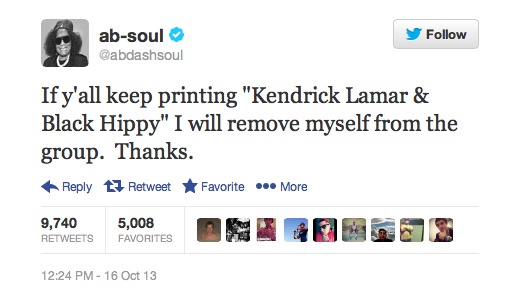 © 2013, @BWyche. All rights reserved.