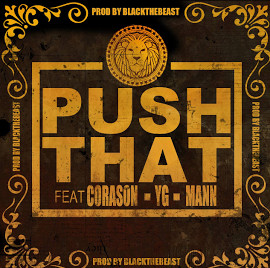 Platinum song writer CORA$ON The Great is back with this hot new single "Push That" featuring YG and Mann.
Fresh off the heels of releases like "Crowned The Greatest" ft. Jadakiss and "Neverland" ft. Ace Hood and DJ Khaled, CORA$ON is taking the game by storm with his own distinct sound. "My sound is something old, but new," CORA$ON deciphers. "I like to do the things that are familiar to the ear, but still a part of what's going on right now." Hence, his sound incorporates everything from hip­hop and R&B, to pop.
The track was produced by BlackTheBeast and delivers an uptempo vibe that is sure to rock any club. With contributions such as Compton native YG (Who Do You Love, My Hitta), who delivers his uptempo hard­hitting lyrical style, and rising Los Angeles rapper Mann on the 3rd verse, this song is ready for the charts.
While the end of 2014 will certainly mark his long­ in­ the ­making debut as an artist, CORA$ON is certainly no newcomer to the inner­ workings of the music industry. Already a noted and platinum­ proven songwriter for co­writing older sister Mary J. Blige's "Family Affair" smash (as well as other songs on her popular No More Drama CD), he already has several songwriting awards under his belt and secured a publishing deal with Universal Music Group. Definitely not one to ride anyone's coat­tails or compromise his own work ethic, CORA$ON has since focused on creating his own musical journey. "Having a sister who's already a legend in the music industry, who's created such a legacy for herself, is great," he reasons. "As far as the music industry is concerned, it can be a double ­edged sword [at times], because it's a lot to live up to. She is so great at what she does that the expectation is through the roof."
With hot verses and star studded features like this and the one's hes been putting out… living up to that expectation should happen pretty quickly for Corason.

Official Pages for Corason The Great
Official Site – www.corasonthegreat.com
Official Twitter – https://twitter.com/CORASONTheGreat
Official Facebook – https://www.facebook.com/pages/Corason­The­Great/247980781955009
© 2014, @BWyche. All rights reserved.