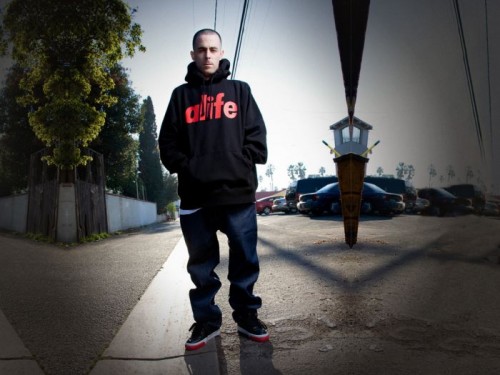 When a picture of Alchemist and Compton rapper Kendrick Lamar in the studio together surfaced on Twitter, the internet went mad. The picture that was posted by the NGM Blog, immediately started rumors of a collaboration between the two.
During this past week, Alchemist had done an interview with Vlad TV giving background information on the picture and denied that the two West Coast Musicians have yet to collaborate on a record together.
"That was an old picture actually when he came by the lab," Alchemist said. "That was before his album dropped…It was an old picture and I don't know, some blog put it up. I didn't even know people were taking pictures that day. But yeah, it got out there and I guess people just ran with it. You know how the webisphere does. One thing spreads and just goes. And I guess people were excited [about] the idea of us working. I know I am."
"I'll tell you this much. I was in Europe at the end of last year touring with [Em] and he was on the shows and we definitely chopped it up," he added. "Had some time to kick it with him. We talked about doing some work so, we'll see what happens."
After speaking on a possible future collaboration with Kendrick Lamar, Alchemist went on commenting on the rise of West Coast music and how he believed they're "crushing shit right now."
"West Coast is—I'd say they're on top right now. I would go out and say that," Alchemist said. "On all aspects. Cause there's so many layers in L.A. You got your TDE crew. You got your Odd Future crew. You got Problem. You got Kid Ink. You got Kendrick. You got Dilated. You have Planet Asia. There's like so many levels. Blu. I mean, we can go on talking forever, but what my point is I think the West is crushing shit right now. And a person like Kendrick—the whole TDE thing is like it's putting L.A. back in that place where when we were young growing up. It was like a whole melting pot of different talent on different levels."
Though the producer was unable to be featured on Kendrick's project, he did reveal that he would be on a couple tracks of TDE artist, School Boy Q's Oxymoron, which drops February 25th.
© 2014, miixtapechiick. All rights reserved.