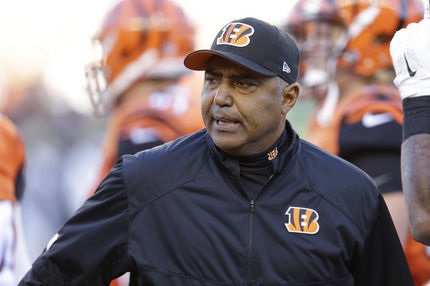 Johnny Manziel has played only a few snaps this season, but he's taken enough criticism to make you feel as if he's been leading the Cleveland Browns all year.
Commentators, players, anonymous players have all given their two cents about the former Heisman Trophy winner. As the season comes to close and the Browns chances to make the playoffs are on the bubble, chances for Money Manziel to see the field again look slim to none.
Cincinnati Bengals coach Marvin Lewis doesn't seem to be worrying about it.
In a recent interview with 700 WLW, Lewis was asked about Manziel and how his team would have to adjust if he hit the field. His response, was, short to say the least.
When asked about how the defense would game plan against Manziel vs Brian Hoyer, his answer was,
"No … you've got to defend the offense, you don't defend the player … particularly a midget."
Soon after that interview on 700 WLW, Lewis said he was sorry.
"I apologize to Johnny and the Browns and all the fans in Cleveland," Lewis said. "It was just a poor remark. I seriously did not imply anything by it."
© 2014, Mehka King. All rights reserved.