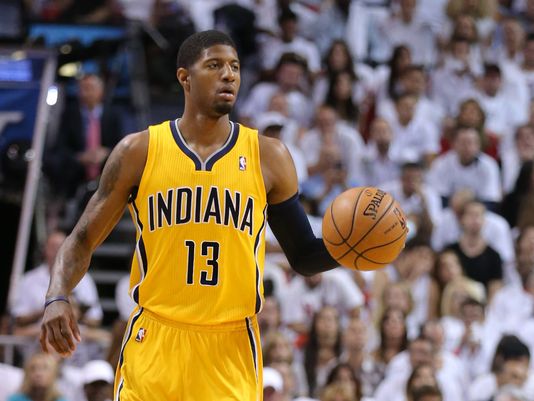 Despite the fact that we might not see Paul George on the court this season for the Indiana Pacers, I'm sure we'll see a increase in jersey sales for the Indiana Pacers forward.
Paul George, who suffered a season ending leg injury a week ago in a Team USA scrimmage has decided to change his jersey number from 24 to 13. George originally wore 24 as a sign of respect for his favorite player Kobe Bryant. Back in march, George applied to change his number from 24 to 13.
According to ESPN, Paul George had some help in making this decision. Apparently, ESPN's Bill Simmons gave light to the idea on Grantland in May 2013 and late night host Jimmy Kimmel mentioned Simmons' wishes to George back in January.
"By the way, I have some advice that will help Paul George become a household name," Simmons wrote. "He should change his number immediately from No. 24 to No. 13. Here's why … can you think of anyone being helped by a nickname more than Paul George suddenly becoming PG-13? 'Uh-oh, PG-13 is heating up!' 'Warning, this game contains strong language, violence and a possible heat check!' 'We might have to make this performance rated R — it's too hot to handle!' Let's make this happen already."
Nike has already began a comeback campaign for Paul George so this PG-13 movement could be a great thing for him. Will you be picking up a PG-13 jersey? Stay tuned to HHS1987 for all your NBA news.
© 2014, Eldorado2452. All rights reserved.