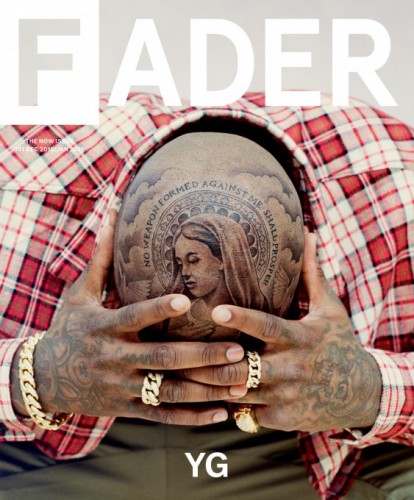 YG has been very low key after unfortunately, being shot over the summer while preparing to start promoting his sophomore album Still Krazy. Now the Bompton rapper is looking to drop the album for a 2016 release which he touches on in his interview with The Fader.
YG shows off his new full head tattoo as he dons the cover of the mag, below we can have an excerpt from the discussion. Catch the full interview here.
It's a Saturday in September, and YG is on the top floor of a split-level rooftop patio in Hollywood, holding court over a small spread of boneless wings and a chilled Dos Equis. A churning Jacuzzi buoys a large Bathing Ape floatie nearby, and a tableau of lush trees, luxury cars, and impossibly gorgeous real estate rolls across the surrounding hills and valleys. The home's owner, Sickamore, a former Def Jam A&R who is now VP of A&R at Epic, runs a game of Madden 16 downstairs with YG's day-to-day manager Nano and longtime friend Psych. The guys throw parties here sometimes, and neighbors rarely complain. Just last week, YG woke up on this very patio to impassioned fellatio from a houseguest, before nodding off for a few more hours.
© 2015, Oktane. All rights reserved.