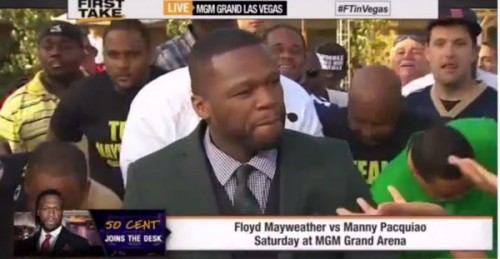 The big fight is tomorrow and 50 Cent was one of many celebrities in town to join in the festivities. On his visit, the G-Unit boss stopped by ESPN's First Take with Skip Bayless & Stephen A. Smith to weigh-in on who he thinks will be the victor between "Pretty Boy" Floyd and "Pac Man." Recently, a picture was posted of Floyd and Fif stating the original "Money Team" was back, so I gather he's gunning for Mayweather to win.
Who do you think is going to come out on top? Let us know below, and see who Fifty is rooting for after the break!
© 2015, Oktane. All rights reserved.