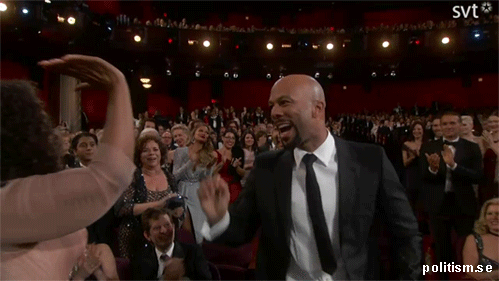 This may be one of the funniest moments in Oscar's history, as least since I've been watching. Common and John Legend won the Acadamy Award for Best Original Song for their song "Glory," which was featured on the Selma soundtrack. Common sits down (Oscar in hand), and chats with Jimmy about how it feels to have won the award. In the middle of speaking, Jimmy cuts to the scene where Common and John make their way to the stage after winning the award. As the two march down the aisle, Common steps right past none other than Oprah Winfrey's high-five, and throws her one of the meanest curves ever recorded! Of course, he explains it was all a mistake. To add to the hilarity, in the next visual you get to see Common talk about being a ball boy for the Chicago Bulls, and forging Michael Jordan's name on a basketball. Com' also touches on his conversation with Jay-Z following the show.
Watch both videos below, and let us know if you believe Common's story!
© 2015, Oktane. All rights reserved.