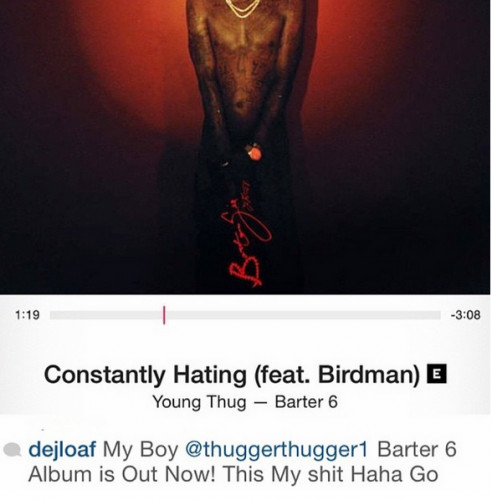 The scrutiny circulating around Young Thug & his Barter 6 project has his homies turning into phoney's on him.
In support of the tape finally going up on iTunes (after it was previously leaked weeks ago), Dej Loaf took to her Instagram account to show "her boy" some love & give a shoutout to her favorite track Constantly Hating.
My boy @thuggerthugger1 Barter 6 album is out now! This my sh*t.
After fans went IN under her comments section & basically ripped her a new one for showing Thugger any type of support, she went ahead & deleted the post.
Now, the irony in the fact that she chose Constantly Hating as "her shit," but fell victim to the very subject matter of the song. If you ask me, that was pretty lame of her to do. Young Thug is going to have people talking about him as long as he continues to have Lil Wayne as his idol & mirrors his image. What can you do? Charge it to the game.. I bet Thug is all the way woke now & paying attention to who really does rock with him, & who's faking the funk..
© 2015, Niyah Nel. All rights reserved.