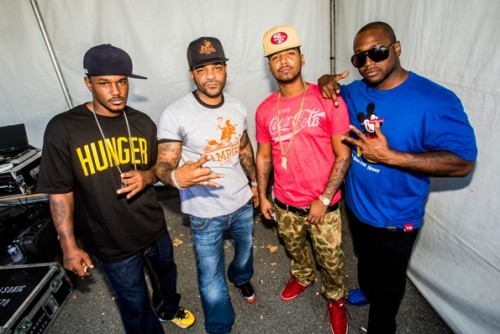 These guys stepped on the scene in the early 2000's & took the game by storm. The Dipset era lived on even after the group split up due to their inside differences. Over the years, they've all been doing their solo projects & personal endeavors, but the wait is over. Dipset will yet again release a project collectively!
We haven't really heard too much music from them since getting word of their reuniting, other than the Dipshits record that dropped at the top of the summer. DJ Funk Flex made the project news official with an instagram post he put up hours ago:
#DIPSET RADIO X CONCERTS X NEW MIXTAPE MADNESS!!!! I just spoke to @jimjonescapo x I just spoke to @Mr_Camron x I just spoke to @thejuelzsantana !!!!! These 3 men have put the bullshit aside and are ready to rock!!!! #STEPONE 7pm This Monday @Dipsetusa1997 take over @Hot97 for 5Hours!!!!! No gossip bullshit just new freestyles and reuniting like the bosses they are!!!! #STEPTWO @Dipsetusa1997 x @djfunkflex are hitting 5 different clubs for #2015 !!!!! THE OFFICIAL 5 STOP DIPSET x DJFUNKFKEX REUNION MADNESS!!!! PROMOTERS HIT ME DIRECT @ [email protected] !!!!! Promoters get your money up!!! #STEPTHREE The most important one of all!!! NEW DIPSET MIXTAPE AFTER WE HIT THESE 5 CLUBS!!!!! New Dipset Mixtape hosted by @djfunkflex x @Djkhaled x @Therealswizzz x @Djmustard!!!!! The wait is over… I can't take it any more!!!! This Dipset project has to happen!!!! Street wants it!!!!!
Not only can we expect a project to be in the works, but a tour will soon happen as well. Before all of that takes place, The Diplomats will invade Hot 97 on January 5th to take over the radio for 5 hours straight, dropping new freestyles & releasing official news about their joint project.
Just when we thought it was all good, it gets a little sad. Cam'Ron informed Miss. Info of Hot 97 that he is currently working on the second installment of his critically acclaimed Purple Haze project, & that this would be his last; Killa Cam is retiring.
Keep it locked as more info on the Dipset project surfaces.
© 2015, Niyah Nel. All rights reserved.