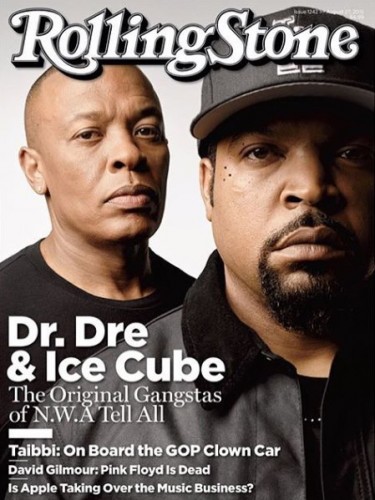 This is a great time for the West Coast. NWA's biopic Straight Outta Compton will be hitting theatres this Friday & Dr. Dre just dropped his latest & very unexpected album, Compton. With all the energy circulating around Dre & Ice Cube, it was great timing for Rolling Stone to capitalize on their new success & get a story out of it.
In their cover feature, Dre discussed a few instances in their past of physical abuse, like when Dre assaulted TV host Dee Barnes back in '91 as well his recent charges involving physical abuse with former girlfriend, 90's R&B singer, Michel'le.
I made some fucking horrible mistakes in my life," says Dre. "I was young, fucking stupid. I would say all the allegations aren't true – some of them are. Those are some of the things that I would like to take back. It was really fucked up. But I paid for those mistakes, and there's no way in hell that I will ever make another mistake like that again.
Cube also touched basis on how NWA referred to women in their songs, to obvious dismay of their female audiences.
If you're a bitch, you're probably not going to like us," he says. "If you're a ho, you probably don't like us. If you're not a ho or a bitch, don't be jumping to the defense of these despicable females. Just like I shouldn't be jumping to the defense of no punks or no cowards or no slimy son of a bitches that's men. I never understood why an upstanding lady would even think we're talking about her."
Read the full cover story here & check in to your local theaters this Friday for the biography film of N.W.A., Straight Outta Compton.
© 2015, Niyah Nel. All rights reserved.