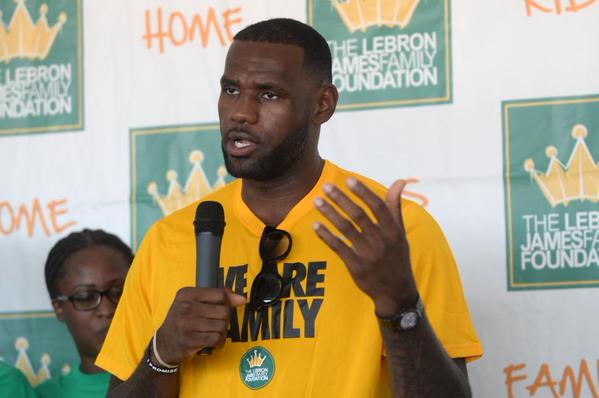 Say what you want about Lebron James, the man realizes the impact he has in the lives of the youth and he always steps up to the plate. You have to respect that. Although Lebron is relaxing while getting ready for the upcoming 2015-16 NBA season, Lebron is proving once again he is also a King off of the court. Lebron has teamed up with the University of Akron and together they will fund the students of Lebron's "I Promise" campaign with four year scholarships.
According to ESPN, 
The NBA star has partnered with the University of Akron to provide a guaranteed four-year scholarship to the school for students in James' I Promise program who qualify.

The scholarship will cover tuition and the university's general service fee — currently $9,500 per year.

According to the Akron Beacon Journal, as many as 2,300 children could potentially benefit from the scholarships.

It's the latest example of James, who often refers to himself "as just a kid from Akron," giving back to a community that helped raise him.

"It's the reason I do what I do," said James, who announced the program Thursday while hosting an event for students at Cedar Point Amusement Park. "These students have big dreams, and I'm happy to do everything I can to help them get there. They're going to have to earn it, but I'm excited to see what these kids can accomplish knowing that college is in their futures."

The university and the LeBron James Family Foundation are still finalizing the criteria for the scholarships. The students will have to graduate from high school within Akron's public school system, achieve standard testing requirements, and fulfill a community service obligation.

James has had a long-standing relationship with the university. As his celebrity soared in high school, James played many game on the school's campus, and the four-time MVP deepened his connection with Akron soon after he turned professional.

"It means so much because, as a kid growing up in the inner city and a lot of African-American kids, you don't really think past high school," said James, who bypassed college to jump to the NBA. "You don't really know your future. You hear high school all the time, and you graduate high school, and then you never think past that because either it's not possible or your family's not financially stable to even be able to support a kid going to college."
Much respect to Lebron and the University of Akron for this big move. Stay tuned to HHS1987 for all your sports news.
© 2015, Eldorado2452. All rights reserved.