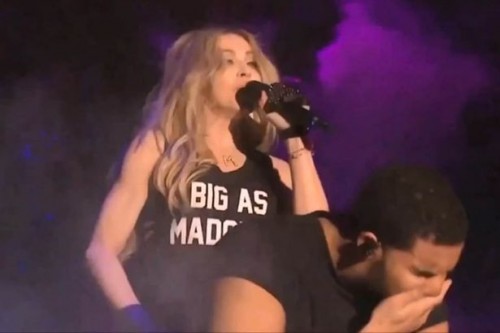 Drake took to the stage last night at Coachella 2015. The rapper, whose set was not originally supposed to be streamed but was, ran through his hits and some cuts from If You're Reading This It's Too Late.
Much to the surprise of fans at the festival and watching the stream, Madonna joined Drake on stage to perform a few of her own songs "Human Nature," "Hung Up," and "Bitch I'm Madonna." The biggest surprise of the night came when Drake was seated in a chair & Madonna bent down and kissed him. At first Drake seemed to be into the kiss but when she pulled away, he looks pretty repulsed, which has already turned into countless hilarious memes.
Watch the kiss and his entire Coachella set below.


Drizzy Coachella 15 Part 1 by YardieGoals

Drizzy Coachella 15 Part 2 by YardieGoals
© 2015, Julie Aly. All rights reserved.