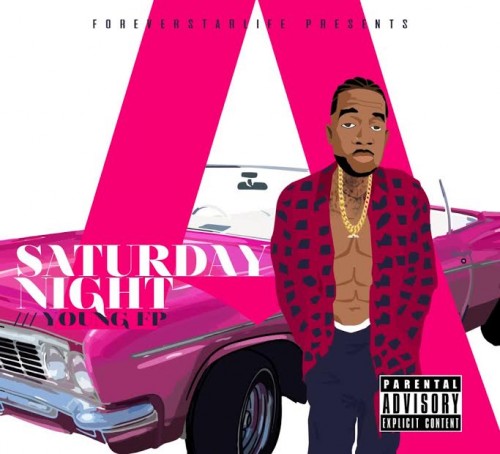 Virginia product Young FP has steadily secured a following over the last few years by creating mixtapes filled with songs about smoking weed, snatching up females, and of course, staying fly and making money. On his latest effort, "A Saturday Night", the president of  Foreverstarlife elevates higher than ever before by showing off an increased sense of confidence, charisma, and character on the microphone.
Young Fp has seemed to have found his voice on "A Saturday Night ."He sounds in complete control over the catchy and trappy sounding "Really" as he spits about really being "with the  shits" of today's times. He uses a catchy,  chopped and screwed hook to help him rap about rolling doobies up in his ride on the melodic and nostalgic  "Cruise," produced by his long time producer Johnny Garza ( formerly Johnny Versace).
There are also uptempo summery type songs like "Playas," produced by Taylor Supreme and "We Made It," another one by Johnny. Young FP seems to have found his lane in riding and music that produces great vibes on this project. You can see the growth, maturity, and also the computability in his flow and cadences.
By sticking to this formula, YFP uses "a Saturday night "to deliver the ultimate high for both his fans and the listeners who haven't heard him yet! Stream below.
© 2016, Niyah Nel. All rights reserved.