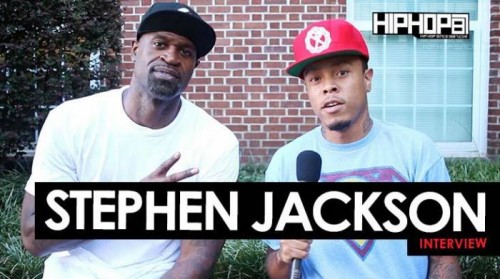 The 2016-17 NBA season is a few months away and as we approach the tip of the new NBA season, NBA veteran Stephen Jackson is working daily on his return to the NBA. With 14 seasons under his belt, at the age of 38, Captain Jack is ready to return to the league for another two seasons. Recently following a Summer League playoff game in Atlanta's AEBL, I sat down with Stephen Jackson to speak on his return and several hot NBA topics.
We sat down with Stephen Jackson in Atlanta's midtown section at Grady High School to get the full scoop on Stephen Jackson's NBA return. Currently playing in Summer leagues and training with Los Angeles Lakers guard Lou Williams and Oklahoma City Thunder guard Cameron Payne, Jackson spoke on being in the best shape of his life and still having a lot to give to the game of basketball.
Mentioning that he would like to compete for another NBA title, Jackson spoke on speaking with several teams so far and Chicago Bulls stars Jimmy Butler and Rajon Rondo wanting him to join the team. "I talked to Jimmy Butler and I talked to Rondo a couple times, they both want me on team".
Not only did we speak to Stephen Jackson on his upcoming return to the NBA, we spoke to him on working on ESPN as a sports analyst, Kevin Durant's move to the Golden State Warriors, Michael Jordan comparing Russell Westbrook to himself, working with Rashad Wallace and Racheal Nichols in Flint as well as what music he is currently listening to in his iPod.
The interview was shot by HHS1987's Eldorado (Terrell Thomas). The interview was shot by Danny Digitall.
Follow us on Twitter/Instagram
@DaTrillStak5/@Stak5pa
@Eldorado2452
@HipHopSince1987
@DannyDigitall
© 2016, Eldorado2452. All rights reserved.