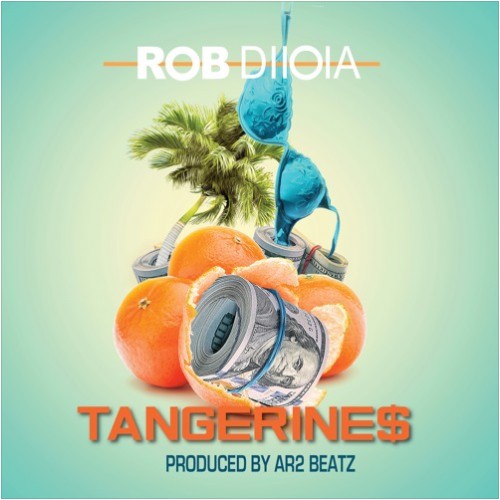 Rob Diioia is really read to make a name for himself this year. The Pennsylvania native has a new project on the way by the name of Look What I Found and is ready to tease his fans by liberating his new single, Tangerine$. The AR2-produced track is made for poolside summer fun surrounded by beautiful women and plenty alcoholic beverages. Below, we asked Diioia a few questions about himself:
How do you feel school has helped you in your music career?
 School was an opportunity to break out of a comfort zone. Finally take a shot at being around people that wanted this shit as bad as I do. School is what you make it, information can be found, but the networking and all the people you meet are the real opportunity. In Highschool i was running sessions out of my parents basement, while working on my craft. I went to school and was able to learn the technical side of the real studio settings while breaking out of a shell and focusing on the hustle.
What motivates you to be successful?
My Motivation is my family. My mother and Father instilled hustle in me since a kid, and always believed in me, even when shit is slow, or i messed up growing up, for whatever reason, they knew i was gonna make it work. Junior High and High school wasn't for me, friends came and went, but family always supported me, making it comfortable to be at the house making music til all hours of the night. The day i can come to them with keys to that new crib by the water, thats all paid for, is when i will be happy. Family is also the people that have been in my corner for years, I want us all to live comfortably, celebrating each day, tangerines and dollar signs style. Every move were making is for the bigger bag. 
Where did the concept for Tangerine$ come from?
The concept of Tangerine$ Came from a trip to Miami last year. I was in the Lobby Of the FontaineBleau, looking around at where i was and who was with me. All there was were, beautiful women, top shelf everything, mad money floating around, and a vibe that I never saw before, An Energy I was sold on. Tangerine$ (and Dollar signs) is a symbolic reference of Everything sweet around me, and the paper to be comfortable to enjoy all the fruits of the labor, so to speak. A realization of what I'm grinding so hard for and where i want to be. 
How would you describe your sound? 
I feel as though I'm developing new levels to my sound every day I'm in the studio. My music translates from my direct vibe of that day. I focus heavily on positive sounds, with heavy drums to pump thru speakers and make you move. Combining two worlds sonically grittier sounds with prettier sounds. 
You have a new project on the way, what's the name and what should we expect? 
My Upcoming Project, 'Look What I Found' is very autobiographical, every song from titles to lyrics, front to back, is my story. This is a sequel to my first ep "Stranger In My Hometown", where i had came back to my small home town, from the more extravagant and fast pace life style i been living, and felt like i wasn't apart of what, once was home. This project, is a different outlook on everything, spending more time at home, seeing some old friends who might be stuck, uninspired and just unsure of their futures or goals. I want this album to speak to anyone who might not have that confidence to chase their dreams, or whatever they want, As i say shit, look what i found! if you go for it, we aint there yet, but this is all possible. You can really see some crazy shit in this life, and there is a lot of beauty out there, just got to go for it. 
Listen to Rob Diioia's new single Tangerine$ here first below.
© 2017, Oktane. All rights reserved.