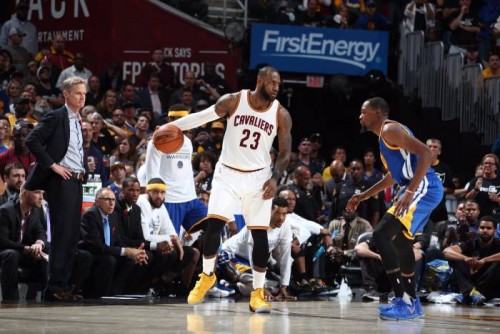 Well things got very very interesting in Cleveland, Ohio on Friday night. After knocking down an NBA record 24 three pointers and going to the foul line 22 times in the first quarter, the Clevland Cavaliers won Game 4 of the NBA Finals Friday night (137-116).
The Cavs are the 1st team to be down 3-0 and avoid getting swept in the NBA Finals since the 1996 SuperSonics. pic.twitter.com/phX9sispCU

— NBA on ESPN (@ESPNNBA) June 10, 2017
The Cavs scored a record 86 first half points and lead the way for the entire game. Cleveland's big three came to play Friday night. LeBron James finished the game with a triple double (31 points, 11 assist and 10 rebounds). Kyrie Irving finished with 40 points and 7 rebounds and Kevin Love added 23 points and 5 rebounds. One of my takes for the game was horrible officiating on by the referees all night long.
This ref crew is an absolute abomination. It's a humiliating night for the NBA.

— Bill Simmons (@BillSimmons) June 10, 2017
For the Warriors, Kevin Durant seemed to be the only scorer to find a rhythm all night. Durant fished the night with 35 points. Draymond Green added 16 points. Stephen Curry had his worse performance of the 2017 NBA Finals finishing the night with 14 points shooting 30 percent from the field. The NBA Finals shift back to the Bay Area as Game 5 takes place in Oakland at Oracle Arena.
Checkout a few highlights from Game 4 of the NBA Finals below. Stay tuned to HHS1987 for more NBA news. Follow @eldorado2452 on Twitter and Instagram for all your NBA and sports news.
© 2017, Eldorado2452. All rights reserved.