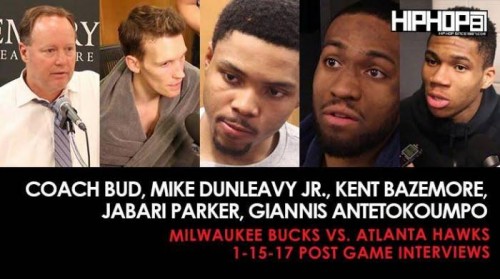 The Atlanta Hawks are (23-17) after a Sunday afternoon (111-98) victory against the (20-19) Milwaukee Bucks. Sunday's matchup was the first of a back to back for the Atlanta Hawks who face the New York Knicks on the road on Monday January 16th.
Postgame we spoke to Atlanta Hawks head coach Coach Budenholzer on the play of Kent Bazemore and Mike Dunleavy Jr. as well as the Hawks performance over the pervious few games.
Following the game we were in the Hawks locker to speak with the Atlanta Hawks. Kent Bazemore was the leading scorer for the Hawks on Sunday. Bazemore finished the game with 24 points on (8-13) shooting from the field. Kent Bazemore spoke on his previous shooting slump and how he never got discouraged knowing a performance like this one was near. The story of the afternoon to me was the play of new acquired Hawks forward Mike Dunleavy Jr. Off the bench, Dunleavy Jr. finished the game with 20 points going (4-5) from behind the three point line. Mike Dunleavy Jr. spoke on his performance in two games with the Hawks and how his game play is fitting into Coach Bud's system.
For the the Milwaukee Bucks, it was big night for potential Bucks all-star Giannis Antetokounmpo who finished the game with 33 points, 8 rebounds and 6 assist. Following the game, Giannis spoke on his performance, possibly making the all-star team and playing on Martin Luther King Jr. Day. Jabari Parker finished the afternoon with 8 points, 10 rebounds and 9 assist. Parker spoke on what the Bucks need to do moving forward as well as the honor of playing Martin Luther King Jr. Day
The Atlanta Hawks are (3-0) against the Milwaukee Bucks during this 2016-17 NBA Season. The Hawks are in action on Monday afternoon (MLK Day) kicking off a two game road trip against the New York Knicks and they face the Detroit Pistons in Detroit on Wednesday January 18th. The Atlanta are back home on Friday January 20th as they host Jimmy Butler, Dwyane Wade the Chicago Bulls.
The Milwaukee Bucks vs. Atlanta Hawks game was covered by Terrell Thomas. The Milwaukee Bucks vs. Atlanta Hawks game was shot by Danny Digital. Stay tuned to HHS1987 for more NBA news. Follow @eldorado2452 on Twitter and Instagram for all your Atlanta Hawks, NBA and sports news.
Follow on Twitter/Instagram:
@ATLHawks
@24bazemore/ @24baze
@Giannis_An34
@JabariParker
@Bucks
@Eldorado2452
@HipHopSince1987
@DannyDigitall
© 2017, Eldorado2452. All rights reserved.