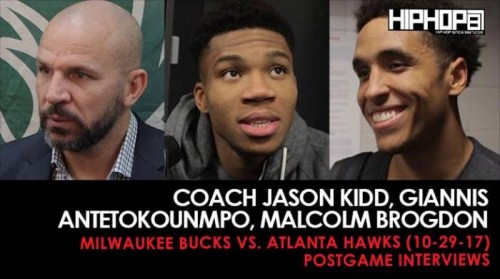 On Sunday October 29th, Giannis Antetokounmpo and the (4-2) Milwaukee Bucks came to Philips Arena in a matinee matchup to face the (1-6) Atlanta Hawks. Before the season began, I predicted that Giannis would be named the 2017-18 NBA MVP. Sunday he continued his early season MVP campaign.
Giannis Antetokounmpo came out the gate firing and he set the tone early in the first four minutes of action. Giannis scored the Bucks first 9 points and picked up an assist on the Bucks 11th point. Giannis Antetokounmpo finished the night with 33 points, 12 rebounds and 5 on (14-21) shooting from the field. Sharp shooter Khris Middleton finished the night with 27 points while Bucks rookie of the year/ Atlanta native Malcolm Brodgon finished with 16 points and 4 assist.
The Bucks were on fire from the three point line in the first half hitting nine three point shots. Bucks guard Rashad Vaughn was responsible for 4 of them going (4-6) from three finished with 12 points on he night. Ginnis Antetokounmpo leads the NBA in scoring averaging 34 points per game.
Following the game, we came up with a few of the Milwaukee Bucks. We spoke with Coach Jason Kidd, Giannis Antetokounmpo, Malcolm Brogdon. Jason Kidd spoke on the Bucks win against the Hawks and what the Bucks must do to continue improving this season. Returning to his home of Atlanta, Malcolm Brogdon spoke on playing in Atlanta in front of Friends and Family and what he has learned from his Rookie of the Year season last year.
With MVP talks already coming his way, following the game we spoke with Giannis Antetokounmpo on his early season run and what he is seeing difference on the court. Giannis spoke on his MVP campaign, not listening to the noise and more.
Follow on Twitter/Instagram:
@Giannis_An34
@eldorado2452
@Bucks
@HipHopSince1987
@DannyDigitall
© 2017, Eldorado2452. All rights reserved.