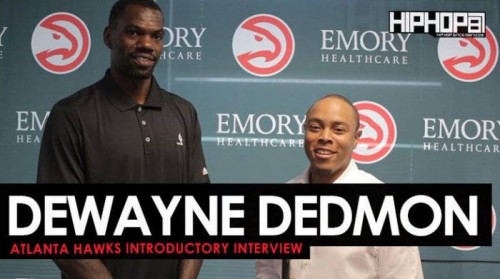 Recently, HHS1987's Terrell Thomas caught up with newly signed Atlanta Hawks big man DeWayne Dedmon.
DeWayne Dedmon signed a two year deal with the Atlanta Hawks own July 21st. Via the Atlanta Hawks "Last season in 76 games (37 starts) with the San Antonio Spurs, Dedmon averaged career-highs of 5.1 points and 6.5 rebounds in 17.5 minutes (.622 FG%, .699 FT%). He grabbed 10-or-more rebounds 13 times, leading the Spurs in rebounds and blocks 21 times. In 224 career games (78 starts) with Golden State, Philadelphia, Orlando and San Antonio, the 7'0 center has put in 4.3 points and 5.1 rebounds in 14.6 minutes (.571 FG%, .668 FT%). He's also seen action in 12 postseason contests (three starts), all with the Spurs."
We spoke with DeWayne Dedmon on signing with the Atlanta Hawks, his roll mentoring the young Atlanta Hawks roster, Meek Mill's new album 'Wins And Losses' and more.
The interview was conducted by Terrell Thomas. The interview was shot and edited by Danny Digital.
Follow on Twitter/ Instagram:
@d_dedmon3
@ATLHawks
@Eldorado2452
@HipHopSince1987
@DannyDigital
© 2017, Eldorado2452. All rights reserved.