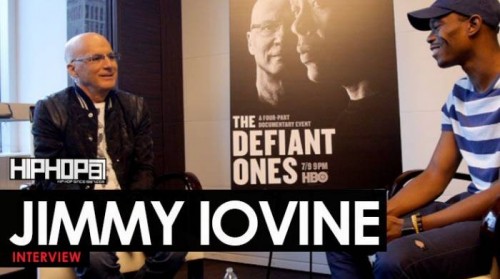 Last week, HipHopSince1987's own E-Money and Rick Dange traveled to New York to link up with one of the biggest and most influential people in the entertainment business, Jimmy Iovine. We sat down with Jimmy Iovine to discuss his upcoming HBO docu-series "The Defiant Ones".
Via www.DefiantOnes.com
"The Defiant Ones is a docu-series directed by Allen Hughes following the stories of Jimmy Iovine and Dr. Dre — one the son of a Brooklyn longshoreman, the other straight out of Compton. Featuring interviews with the men themselves and the artists they influenced, the four-part series tracks their improbable partnership and surprising leading roles in a chain of transformative events in contemporary culture."
Jimmy Iovine talked to HHS1987 about his early career in the music industry as an engineer for John Lennon as well as his work with Bruce Springsteen. He broke down the importance of not being lazy and striving for your goals. Jimmy Iovine also talked about how Dr. Dre was so opened and honest in the docu-series, being Suge Knight's mentor at one point and watching his career spiral out of control, and much more.
Watch this exclusive interview now and make sure you watch the multi part series "The Defiant Ones" on HBO starting on July 9th.
Follow Us on Twitter at:
@InterscopeJimmy
@HipHopSince1987
@EmoneyBeatz
@RickDange
© 2017, RickDange. All rights reserved.