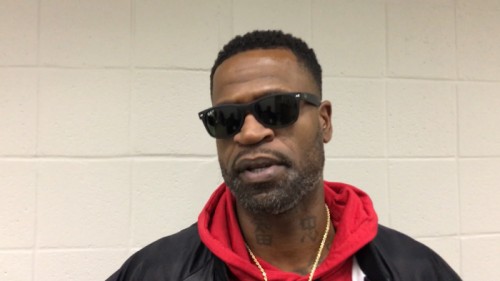 Last night following the Atlanta Hawks victory against Jimmy Butler and the Minnesota Timberwolves, I spoke with former NBA great/ ESPN sports commentator Stephen Jackson to get his opinion on a few hot topics in the NBA.
With news breaking on Monday night that former Slam Dunk champion Blake Griffin had been traded to the Detroit Pistons, I spoke with Captain Jack on his thoughts on the deal.
"What Took So Long?" Stephen Jackson shared his thoughts on why Blake Griffin was traded and he spoke on what he believes the future of the Los Angeles Clippers may look like. Before concluding our time with Stephen Jackson, I asked him his predictions for the upcoming 2018 NBA All-Star Game. Jackson shared his predictions on the Team LeBron vs. Team Steph matchups without his good friend, New Orleans Pelicans star DeMarcus Cousins.
Checkout the interviews via Terrell Thomas (@Eldorado2452) above. Stay tuned to HHS1987 for more NBA news. Follow @eldorado2452 on Twitter and Instagram for all your NBA and sports news.
© 2018, Eldorado2452. All rights reserved.