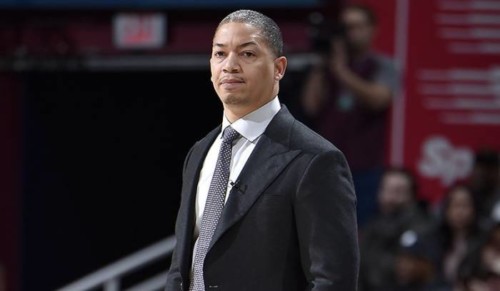 Get well soon Coach. Earlier today, the Cleveland Cavaliers announced that their head coach Tyronn Lue would be stepping away for the team for a while due to health reasons.
The Cavs have yet to announce the exact reason why Coach Lue is taking some time to rest and recover but Chest pains have bothered him all season long. Coach Lue was considering this break for sometime but he made a final decision today.
Both Coach Lue and Cavs general manager Koby Altman spoke on the decision earlier today:
From Tyronn Lue:
"After many conversations with our doctors and Koby and much thought given to what is best for the team and my health, I need to step back from coaching for the time being and focus on trying to establish a stronger and healthier foundation from which to coach for the rest of the season.
I have had chest pains and other troubling symptoms, compounded by a loss of sleep, throughout the year. Despite a battery of tests, there have been no conclusions as to what the exact issue is.
While I have tried to work through it, the last thing I want is for it to affect the team. I am going to use this time to focus on a prescribed routine and medication, which has previously been difficult to start in the midst of a season. My goal is to come out of it a stronger and healthier version of myself so I can continue to lead this team to the Championship we are all working towards.
I greatly appreciate Dan Gilbert, Koby Altman, our medical team and the organization's support throughout."
From Koby Altman: 
"We know how difficult these circumstances are for Coach Lue and we support him totally in this focused approach to addressing his health issues."
Stay tuned to HHS1987.com. Follow @eldorado2452 on Twitter and Instagram for all your NBA and sports news.
© 2018, Eldorado2452. All rights reserved.