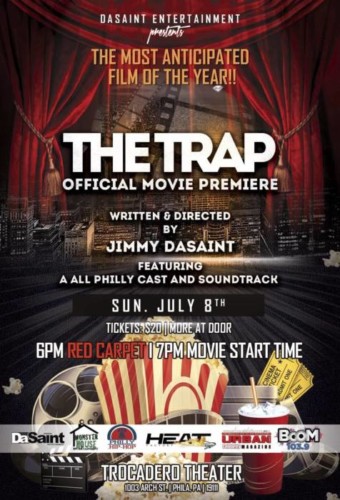 This Sunday come out for "The TRAP" red carpet and movie premiere at the Trocadero Theater.
"Neeko and his best friend Fresh are young street hustlers. Each day they all gather at their favorite trap spot to make money. After a string of incidents an all-out war begins between Neeko's crew and the notorious Flex Boys and now no one is safe. In the end only a few will survive the game but each one of them will always be a victim of 'THE TRAP'."
The movie is featuring an all Philly cast and soundtrack and red carpet will begin at 6pm sharp!!! The event will be hosted by @shellyshellux and powered by Dasaint Ent.
@rizzy_2one5
@stormypleasure
@iamivymarie
@chattaboyz
@celebrityflash
@northphillymeech
@phinatic_two
@mookiemook215
@youngbob_hsr
@oschinovasquez1
@dareesemalatche
@nijahdupree
@voyce_morris
@1kdubb
@darealstizz
@iamplex
@vita_ann
@topmodelyama
@trizzythemouth
@mikethou
@the_money_team_shi215
@devonttae
@hhspady
@philly.hiphop
@blackdeniro_215
@itsyoken
@2key15
@onepunchcarr
@msfystee215
@rocstarp
@phillyhiphopcop
@ceeceeking
@malgates
@bernardglincosky
@freewayricky
AND MANY MORE!! 6pm red carpet provided by @giosoglobal and @boomphilly , 7pm movie start time!
TICKETS $20
© 2018, Seth Barmash. All rights reserved.